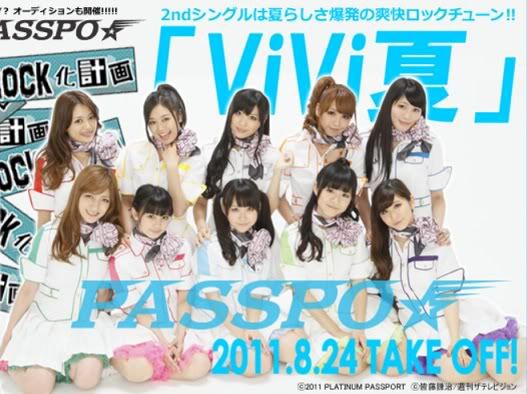 Universal Music Japan posted a 30 commercial for Passpo's upcoming 2nd single ViVi Natsu. After what felt like an eternity to wait, we finally get a sneak peak at the PV.
When I saw the PV for Shoujo Hikou I wondered what Passpo was going to do in their next PV. Since Shoujo Hikou was nothing but their flight attendant theme. Because of that I wondered what direction the next PV was going to be. Was it going to be their group theme again, or something completely different?
Well, I can honestly say that the ViVi Natsu PV is so far from what I was expecting.
Half of the PV shows them dancing in their flight attendant inspired outfits and the other half of the PV shows them lounging around a pool and I think in a bathtub. Even though this song is about summer I was not expecting Passpo to be bikinis at all. It seems like ever idol group thinks they have to do a bikini PV just to keep up with AKB48. SUPER GIRLS just had their bikini PV recently. I don't know, when I think of Passpo I just don't think of bikinis. But I guess not all idol groups can have summer themed PVs without bikinis like Momoiro Clover did with their Coco Natsu PV.
But I'm pretty ok with the whole theme because it's just like SUPER GIRLS's Max! Otome Gokoro, where it was all done in a playful manner. And besides that, Natsumi and Mio look amazing in their bikinis.