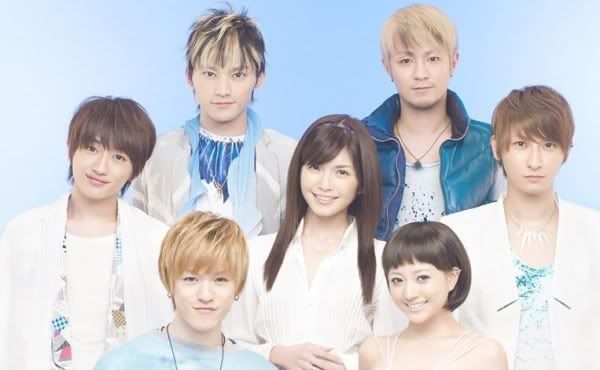 The title of this post pretty much says it all. And from that it should be obvious what this post is going to in entail of. Most of this post is my personal back story. So, if you could care less about that I suggest you skip this post. I think I might have already posted about some of this back story before, but I can't really remember. But even if I have it hasn't been written in such detail before. XD
By the way, this post is long overdue. Like, a lot longer than you'd think. But you know how I loved to procrastinate on this blog. Well, I procrastinate with these types of posts. With news posts I tend to try and post them the second I find out about it. XD
When I first got into Japanese music in September 2004 I was instantly in love with it. And because of that instant attraction I knew I was going to be listening to it for a long time. And I wanted to do something special to commemorate what was going to become a rather fond memory. Since I was only 12 at the time I decided to do so in the only way I could think of, through music. I decided the perfect way to commemorate the occasion was to find a group that had just formed and follow them from day 1. And as the years passed, and the group remained intact, I could fondly looked back and see how much the group had evolved. And inturn look at how much I had evolved as a fan of Japanese music. And also to see how far the group had come. So, that every time I listend to them it would make me think of how I had been following them since the beginning and to also think of the exact moment I became a fan of Japanese music. And I did just that, the group I picked was Hinoi Team. And I absolutely loved them. I emerged myself completely in them. I listened to all their songs, I learned about the members, I followed absolutely every move they made, and I also learned a few of their dances. I followed Hinoi Team just as closesly as I follow Hello!Project and Johnny's Entertainment now. So, that should give you a clear picture of just how much I loved them. As we looked back at the fate of Hinochi, I obviously shouldn't have put all my eggs in one basket. The whole Hinoi Team disbanding situation as a whole still makes me angry. Mostly because to this day Avex has never officially announced they broke up. You were supposed to just know because one of the members stopped modeling for the magazines that the Hinoi Team members were modeling for. I can't 100% remember which girl it was. But I'm like 70% sure it was Keika. And the song Please Forgive Me was supposed to tell you they were sorry for breaking up. But Avex never officially said that. And as a devoted fan I wasn't going to believe it until it was official. But after a year with no word about them, I finally accepted they broke up.
But what does any of this have to do with AAA? I'm glad you asked! Or, rather, most likely were thinking this as you just read a seemingly pointless paragraph. If you couldn't figure it out by now, I had every intention of doing the exact same thing with AAA that I did with Hinoi Team. I can still remember when the group AAA was first announced. I was extremely excited. I was beyond happy to add yet another group to commerate becoming a Japanese music fan. I can still remember the rush of excitment vividly. I was in such a euphoric state just because a new Japanese group had been announced.You can tell right from the beginning I was very passionate, and extremely into, Japaneses music. And that type of passion and excitment hasn't changed. It's actually intensified over the years.
However, when I first heard BLOOD on FIRE I was completely turned off. I only ever listened to the song once, and then I completely washed my hands of them. I didn't give the song a second chance. And I didn't bother seeing if their next couple of singles were good. I was done, just completely done. And that snap judgement set the course for how I treated AAA over the years. I'm sure I had a good reason for not liking the song of course. It was probably because the style of music was so different from what I was listening to at the time. It was techo/anime sounding music with a hip hop vibe. It was also probably because there was rapping in it. Back in the day I thought rapping in Japanese was hilarious. And I could never take it seriously. Obviously I grew out of that. And I actually love Tanaka Koki's rapping. But I think it was ultimately because of how much I liked Jrock. Even though I did listen to Jpop back then, and most of it was pretty ubeat, a majority of the music I listened to and focused on was Jrock. I thought a lot of music that wasn't Jrock was inferior. Which in retrospect makes no sense. I must have been bipolar or selectively judgmental back then. Because on one hand I learned the dances to Hinoi Team's Super Euro Flash and Tamaki Nami's My Way, but on the other hand I was trying to completely be Visual Kei/Jrock and practically worshiped Dir en grey. I think it was probably mostly male singers that I judged side by side with Jrock. Because I can clearly remember, after such a fuss was made about them online, looking up Arashi and Super Junior. And then making fun of them a lot. Ironically, now I love both groups. But back then I viewed any male Japanese singer that wasn't Jrock to be too happy and girly for my taste. However, for some reason I really loved Miyavi. Even though his music, and style, has always been pop with guitar rifts and sometime heavy music, he was always given a pass. Probably because he was still under the Jrock umbrella. And ironically my love of idol music now determines what kind of Jrock I listen to. Since the majority of Japanese music I listen to is idol music, I hardly ever listen to Jrock anymore. And the little Jrock I do listen to has moved from heavier music and Visual Kei music to the lighter side of Jrock. Pretty much all I listen to is Oshare Kei because the music is happy and upbeat. It's the most idol like Jrock out there. Pretty funny, huh? But I'm getting way off subject now. Anyway, any of these reasons could be why I wasn't into AAA. I honestly can't remember anymore. It was 7 years ago, and I was 12, give me a break. XD
It was 3 years later when I was ready to give AAA another chance. Mirage had just come out and it was a pretty popular song. Well popular enough in Japan, it didn't really sell all that well. But for some reason it was pretty popular on the internet. Or it seemed to be anyway. So, I thought "Ok, people seem to really love this song. I should give it a try." And a try I gave it. But again I wasn't into the song. My reason behind not liking it is pretty hazy. All I remember is thinking "Why do people like this song so much? It has weird Indian music." Even though that was only 3 years ago I can't really remeber too well what I thought of that song and AAA. Mostly because the song didn't leave a big impression on me, so I saw no reason to remember every little detail about the song.
And yet again I washed my hands of them. It wasn't until about 6 months later I gave them another chance. I heard a group dub of Kuchibiru Kara Romantica. I thought the dub was so well done that it made me want to hear the original song. Which by the way, I had no idea was AAA. I was completely blown away by the song. By then I was completely engulfed with idol music. Both male and female. So, I was apparently ready to give them another chance. I then listened to Get Chu and got addicted to it immediately. But the next song I heard was Q. Which I thought was completely awful, and I became derailed again. The overly intense and weird music threw me off. I also lost interest because I didn't find any of the members attractive. However, today I think Nishijima Takahiro is adorable. In that "he's so odd/unique looking that he's cute." way. Nishi kind of looks like a duck to me, but he's still a cutie. A couple of months later, by accident, I found the Kimono Jet Girl video. Which I also thought was awful. But after the 4th or 5th listen I was hooked. The repetitive nature of the song made it insanely easy for it to get stuck in my head. A complete ear worm!
Since then I've listened to a few more AAA songs. Some I've liked: Music, Dream After Dream ~Yume Kara Sameta Yume~, and Summer Revolution. And some I didn't: Jamboree, Hallelujah, and Aitai Riyuu. But at least thats's an improvement. At least I'm sort of making an effort now.
Well, that brings us up to date. That pretty much shows how I have a legit love-hate relationship with AAA. But AAA has always been an idol group that I've wanted to cover on my blog. Since they were a group I was midly interested in, and was sort of familiar with, I thought it would perfect to cover them. Since blogging would keep up to date on the group, and because I would be blogging about them, I'd have to go back and learn more about them and their music to make decent posts about them. (The same thing with Kanjani, but I've been really lazy with them. XD) Back in 2009 when I officially turned JM into an idol blog, I put focus on how I was going to be covering AAA. However, since then I have yet to make one post about them. It was a perfect plan, but it just never actually happened. And the main reason for that is whenever I hear an AAA song for the first time I never like it. I am usually extremely underwhelmed with the song, and then lose all interest in it. And because of that I feel completely uninspired and skip writing about the single all together. It usually takes a while for AAA's songs to stick. But after they do I'm usually in love with them. Pretty much every AAA song I've ever heard I ended up liking later on. I had every intention to make posts about Paradise, Daiji na Koto, and No Cry No More. They were like the first singles I set out to write about as soon as they were announced. But I didn't like them enough the first 5-6 times I heard them to write about them. But now I am completely in love with them. Well, I love the songs minus No Cry No More. But that's probably because that song is still too new. XD
After writting this post I'm not exactly sure what the point of this post is. It actually doesn't really have one. I guess I wrote it, more or less, to vent my frustation at myself for how I've been putting AAA on the back burner. This post turned into a rant more than anything. I don't know, I just feel really sad about my whole AAA situation. I'm actually starting to really like AAA. I mean, Get Chu and Music are some of my favorite idol songs of all time. It just feels like there's been a lot lot of wasted time. There was a good 6 years I could have spent being an avid AAA fan. Or at least 3. Instead I settled for indifference because of my own high expectations and intense scrutiny of everything.