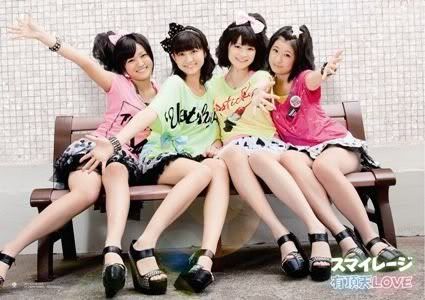 A PV preview for S/mileage's upcoming single Uchouten Love has been released. As well as a low qulaity preview of the full version via S/mileage's USTREAM show.
I will only be commenting on the 30 second commercial, because I want to wait for a high quality version of the PV before I watch it.
I'm a little dissapointed by how cheap and low budget the PV looks. S/mileage's PVs have always been low budget, but I think this is their cheapest PV yet. They are pretty much dancing on a small stage with the words Love behind them in giant letters, which is pretty boring. And the set itself reminds me a lot of V-U-DEN's Aisu Kuriimu to my Purin set. They are both pretty small sets, with floor level lights in front of a curtain. And the group close-ups remind me way too much of the group close-ups in their Otona ni Narutte Muzukashii PV. I'm also not the biggest fan of the dance. Since the song sounds a lot like eurobeat I was expecting a para para influenced dance. However, that's not the case. Instead we have a pretty below average idol dance.
The only aspect of the PV i don't have complaints about are the girls themselves. They look completely adorabel. Especially Saki and Yuuka. I think Saki looks the best yet again in this PV. You know, I used to really dislike Saki. Now anymore she's the member I notice first. She has just been looking super adorable and pretty lately. I also love in this PV that there are still some goofy moments that make S/mileage, S/mileage. The weird ways they approach the mic, and the randomly playing with balloons. It's utterly adorable.
Here's the CM PV preview.

And here's the USTREAM preview.