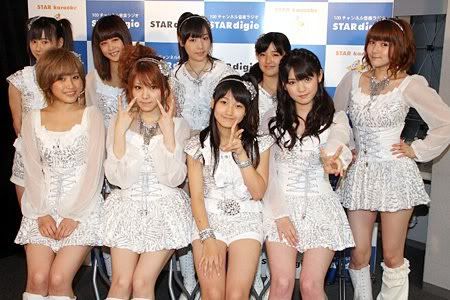 Morning Musume has just announced they will be releasing their 47th single, which will be the last single to feature Takahashi Ai. It will be a double A-side entitled Kono Chikyuu no Heiwa wo Honki de Negatterun da yo! / Kare to Issho ni Omise ga Shitai and will be released on September 14th. Takahashi Ai's graduation version of the single also features a solo song by Ai-chan.
Everyone knew this day would come eventually, Takahashi Ai's final single. But even though her graduation was announced months ago it didn't really seem real to me until this moment. The moment when you say, "This is it. This is her last single." And you know, I actually feel a lot sadder than I was expecting to feel. Ai-chan is hardly my favorite member but it feels really sad to see her go. For some strange reason I am actually choked up. It feels surreal for thre to be a Morning Musume without her.
But back on topic, I am actually extremely excited for his single to be a double A-side. Momusu hasn't had a double A-side in a long time. The first song, which translates to, I'm really hoping for peace on Earth, seems like it is going to be a very powerful and meaningful song. The title immediately makes me think it's going to be a mix of Aozora ga Itsumademo Tsuzuki You na Mirai de Are and Ame no Furanai Hoshi de wa Aisenai Darou.
While the second song Kare to Issho ni Omise ga Shitai, which translates to I want to shop with him, seems more like a fun upbeat song. I'm thinking lyrics wise it sounds like it's going to be along the lines of Lemon Iro to Milk Tear, Nebou desu. Date na no ni, or Koi ING. Or at least that's what I'm hoping for. XD
It really seems like H!P and UFA are really having Morning Musume's longest leader go out with a bang. Double A-side graduation single, solo song, and concerts at the legendary Budokan. I really wish this single will get number 1 on the charts. Just because I think Ai-chan really deserves to go out on top.
You can buy this single from CDJapan by clicking the links below.

Morning Musume – Kono Chikyuu no Heiwa wo Honki de Negatterun da yo! / Kare to Issho ni Omise ga Shitai [w/ DVD, Limited Edition / Type A]

Morning Musume – Kono Chikyuu no Heiwa wo Honki de Negatterun da yo! / Kare to Issho ni Omise ga Shitai [w/ DVD, Limited Edition / Type B]

Morning Musume – Kono Chikyuu no Heiwa wo Honki de Negatterun da yo! / Kare to Issho ni Omise ga Shitai [w/ DVD, Limited Edition / Type C]

Morning Musume – Kono Chikyuu no Heiwa wo Honki de Negatterun da yo! / Kare to Issho ni Omise ga Shitai [Regular Edition]

Morning Musume – Kono Chikyuu no Heiwa wo Honki de Negatterun da yo! / TBA Ai-chan Solo [Takahashi Ai Graduation Special Verison]