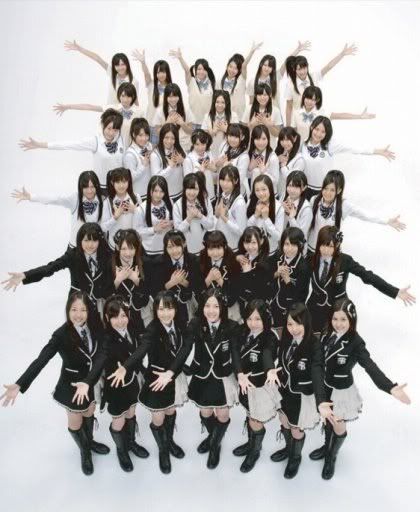 So, I haven't really been keeping up with SKE48 despite me saying how I was going to over a month ago. Apparently SKE48 is going to release their 6th single, Pareo wa Emerald, on July 27th. But that was announced in May, so I'm sure most people have heard about it already. SKE48 preformed this song recently during one of their stages. (I think that's were this clip is from, I'm 100% sure.)
As soon as the song started and it was just as a heavy dance track as Banzi Venus and 1!2!3!4! Yoroshiku I was in love. It actually is different fromthose songs, because they were a little more electronic sounding. While this song is a little bit more laid back. It sounds like amped up version of Gome ne Summer.
Maybe this is an unpopular opinion, but I absolutely love every song that is basically a walking idol cliche. So if a song has heavy music and is insanely upbeat chances are I'm going to like it. I mean, it's songs like this that make me want to get into SKE48 to begin with. The song might be a little boring for people, because it's sung nearly the same way throughout the song. And honestly that's the only draw back that this song has. But the song and dance have such high energy that I absolutely love the song.
As always, you can purchase this single from CDJapan by clicking the links below.

SKE48 – Pareo wa Emerald [CD+DVD / Type A / Jacket A]

SKE48 – Pareo wa Emerald [CD+DVD / Type B / Jacket B]

SKE48 – Pareo wa Emerald [CD+DVD / Type C / Jacket C]