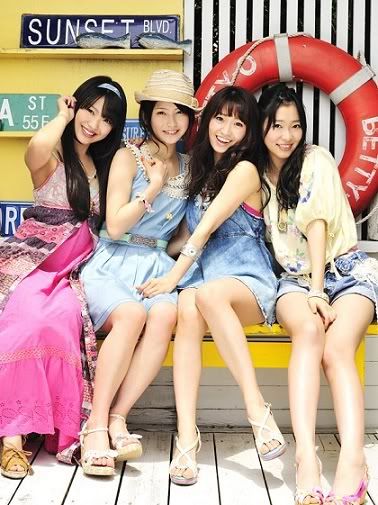 With a little less than a month until the release date, Not Yet has released the radio rip for their upcoming 2nd single Naminori Kakigori. I don't really understand why they are relasing te radio rip so early. I actually don't really remember or pay that close attention to when radio rips are usually released. But in does seem to be obnoxiously early.
I actually like the song. It's exactly what it promised it would be, upbeat and summery. This song is a tiny bit slower than Shuumatsu Not Yet, but hardly at all. The only real complaint I have about the song is that the singing doesn't pick up during the chorus. I can't stand when songs are sung in the same melody the entire song. But besides that the song sounds good. The line distribution seems fair, and the song is incredibly catchy. But my favorite part of the song is toward the end when they start singing really slow. It only lasts for a couple of seconds but I love when songs do that.
I absolutely love the the theme that Not Yet seems to be going for. Just really upbeat, happy, and danceable music. They have only released 2 singles, but they are really starting to become one of my favorite AKB48 sub-groups.
The audio for this video is extremely low. I had to turn my headphones up to 54 just to hear the song at a normal level.