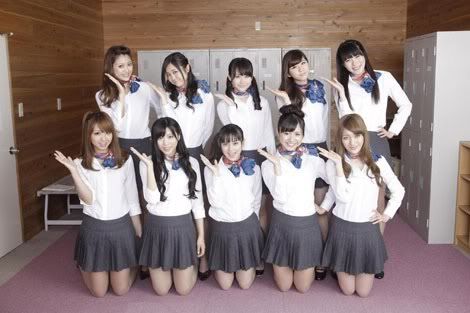 Passpo recently streamed their concert live on their ustream channel, and during their encore they performed their upcoming new single ViVi Natsu. Which is going to be released sometime in August.
The song still has the familiar guitar riffs and pop rock melody that makes Passpo, Passpo. But the song is a little different that what Passpo normally does. They made the rock beat a little less intense then previous songs, and instead added some rap parts into the song. Which I think is absolutely amazing, and are my favorite parts of the song. With Akari gone from MomoClo, I didn't think I'd hear rapping in idol music again any time soon. But I'm glad that Passpo added this to their song. It gives them a fresh vibe, and just adds to them being different then other idol groups. I also love the random English lines that are in the song. Which were actually noticable. Usually when there's English in a Japanese song I don't even ntoice until they perform it live on TV and I see the lyrics on the screen. XD
I'm really looking forward to a radio rip of this single. The song will probably sound completely different. Since concert footage and rips usually distort the music slightly. Or in Aisaresugiru Koto wa Nai no yo's case not so slightly.