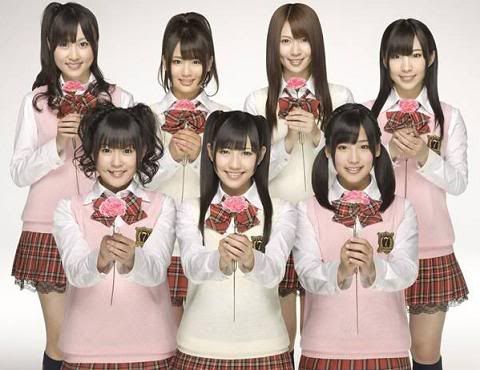 AKB48 sub-group, and what was thought to have been a one shot group, Watarirouka Hashiritai7 announced that they will be releasing a new song for Mother's Day. The song is entitled Mama, Grazie, and will be used as the commercial theme for the 7-11 Ito-Yokado's nationwide campaign. The song will be available on Recochoku on April 27th. The short version will be released on Chaku-Uta and it will be released in full on May 4th.

I'm a little confused on this whole situation. The information I posted above points to nothing more then a song for a commercial. Along the lines of what Kis-My-Ft2 did. Last year they were in a commercial for dwango. In the commercial their song FIRE BEAT was used and was available exclusively through the dwango site. It seems to me that Watarirouka Hashiritai7 is doing the exact same thing.
But despite that, lots of fans are still saying that this song is going to be used as a legit single. So, that makes me extremely confused. Is this song going to be released as a legit single? I honestly have no idea. But it actually could. Watarirouka Hashiritai7 is a sub-group of AKB48, that alone would make the song sell fairly decently. Watarirouka Hashiritai usually sells about 50,000 copies of their singles. But their last single as Watarirouka Hashiritai7, which was also a holiday themed single, sold over twice as much. It seems like management is trying to get as much bang for their buck while they still can.
Wether this song is just a commercial theme or is going to be a legit single, is still unknown for now. But either way, I'll keep this site updated on all the news for this song.