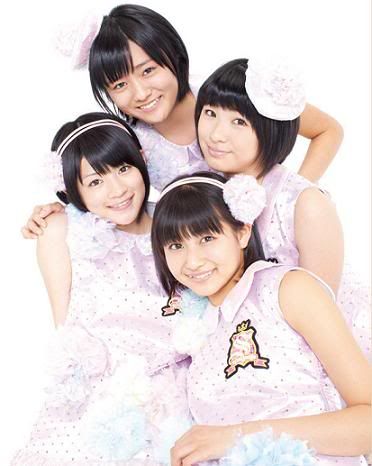 The full radio rip and PV preview for S/mileage's upcoming single, Koi ni Booing Buu, have been released.
When I first heard this song from the commercial for this single I fell in love with the chorus. And I'm still in love with the chorus. But after hearing the full version of the song, I am a little dissapointed. The chorus is the only part of the song that's actucally good. The song starts out with really strong music. It's the same cutesy music that S/mileage always releases. But with this single the music is a little heavier and a little rock sounding. I hear some real Buono elements in the song, while still having the distinct S/mileage sound. I am really in love with the music and overall sound of the song. But when the girls start singing that's when I start to get a little dissapointed. The verse and bridge aren't nearly as strong as the chorus. It's actually a little bland. And if you didn't know the voices of S/mileage you could easily mistake the song for C-ute or some other random idol group. The way it's sung makes it sound a tiny bit similar to Shortcut. I really wish the energy and tempo of the chorus was heard throughout the song. All of S/mileage's pervious singles have been strong both in chorus and verse parts. I'm a little sad that the verse to this song is missing that umph that their previous singles had.
The PV preview is only about 30 seconds longer than the commercial that aired a few days ago. The preview mostly shows the close-up shots, since it's starts off right when the singing begins. The only thing in this preview that's new is, it shows that they are wearing the pig ears and snots more than I expecting. Which is awesome, because I think they look beyond adorable in them. The PV is really interesting to watch. Despite it being relativly cheap. All the sign that match the lyrics make this PV really fun and cute. This is probably my favorite PV that H!P has released this year.