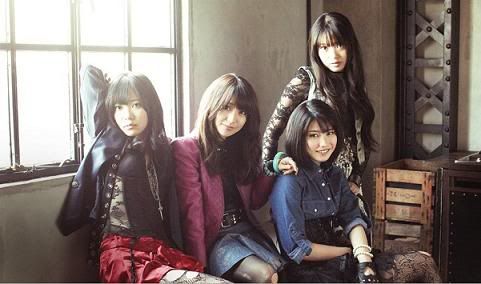 A PV preview has just been released for AKB48 sub-group Not Yet's debut single Shuumatsu Not Yet. Which is funny because I just said in another post how I hope they release a radio rip so I can make a post about the song. XD

When I first saw the picture of Not Yet a month ago I was expecting this awesome, gritty, rock inspired group. Instead we have this laid back and refreshing group. Which isn't a bad thing, I was just not expecting it. The song itself isn't really anything spectacular. It's an ok song, with a mediocre soft beat. But I became a lot more interested in the group by watching the song performed. I thought the dance was both adorable and exciting to watch. I found the performance itself to be very entertaining. I had a goofy smile on my face throughout it. And since then I've been patiently waiting to see what the PV would look like.
And now, the preview is finally out. The preview is extremely short, lasting only about 30 seconds. And the entire time the PV preview consists of Not Yet dancing in 2 extremely odd outfits. The first makes them look like they are a squadron of super heroes. And the second one has like a circus theme, but looks like a standard idol concert outfit.
Despite the PV being nothing but a dance shot, I'm actually really entertained by it. It just looks so cheerful and happy. Maybe it's the extremely bright background, or maybe it's the adorable dance. But whatever it is, there's something I love about this PV and group. The set of the PV reminds me of like 3 different PVs jumbled together. But that doesn't really bother me. But for me the highlight of the preview was Yuko's short dance solo, mostly because it reminds me of her awesome dance solo from Heavy Rotation.
All in all I am actually really looking forward to the full PV.


Here's the PV preview.


And if you have yet to hear the song, here's them performing half of it. The song starts at 2:07.
Also, you can buy the single from CDJapan by clicking the links below.

Not Yet – Shuumatsu Not Yet [CD+DVD / Type-A]



Not Yet – Shuumatsu Not Yet [CD+DVD / Typ-B]



Not Yet – Shuumatsu Not Yet [CD+Booklet / Type-C]