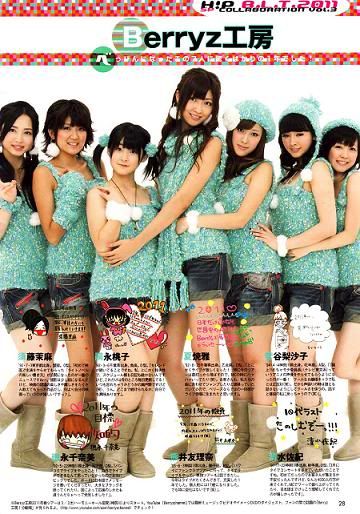 The radio rip for Berryz Koubou's upcoming single, Heroine ni Narou ka, was finally released. The concert rip for this song has been floating around the internet for nearly a month. But I haven't listened to the concert rip (well until today) at, because I prefer to wait for the radio rip to be released. Usually because the concert rip is either poor quality or the song differs a lot from the concert rip. In the Aisaresugiru Koto wa Nai no yo concert rip the background music soundly completely different.



The radio rip is only a little less than half of the song, but it's more than enough to get an overall feel of the song. The music for the song has a very techno and electronic sound to it. It reminds me a lot of Morning Musume's Fantasy ga Hajimaru and I'm Lucky Girl. I guess Tsunku's been in an 80's or techno phase recently. I'm not really complaining. I absolutely love the electronic sort of house music beat that this song has. Berryz hasn't released a song this danceable since Dakishimete Dakishimete. Even though the music is really amazing I think the vocals are lacking a great deal. There's hardly any emotion in it. Besides the chorus only Saki's and Miyabi's long notes are even memorable.
The only really good part about the singing is how evenly divided the lines are. Except, correct me if I'm wrong, I didn't really hear any solo lines by Yurina. I think she might have only had 1. Which is a tough break. But since she lead Shining Power, I guess she can't really complain.


Here's the radio rip:



And if you're interested here's the concert rip:







As always, you can buy this single from CDJapan by clicking the links below.

Berryz Koubou – Heroine ni Narou ka! [w/ DVD, Limited Edition / Type A]



Berryz Koubou – Heroine ni Narou ka! [w/ DVD, Limited Edition / Type B]



Berryz Koubou – Heroine ni Narou ka! [Limited Edition / Type C]



Berryz Koubou – Heroine ni Narou ka! [Regular Edition]



Berryz Koubou – Heroine ni Narou ka! [Single V]