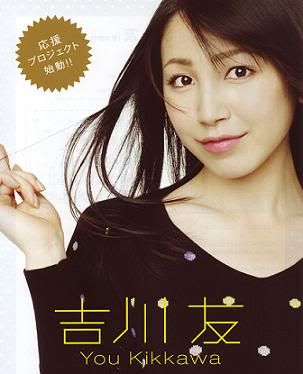 Hot off of officially finishing her Egg training, Kikkawa Yuu, (or for some reason now Kikkawa You) has just performed as the opening act for the Hello!Project 2011 Winter Concert. She preformed a brand new song entitled Sayonara Namida. As of now, You is listed as being a support project. But it seems pretty likely, and nearly set in stone, that You will become a new H!P soloist. Because if she was joining a group she wouldn't have performed an original song alone, and have her very own support site. By the way, you can visit her support site here.

And of course because wota are very dedicated there's already a concert rip of her performance of Sayonara Namida. You's voice has matured and developed into something truly amazing. She has this full richness to her voice. It is incredible and absolutely flawless. The song sounds like some of the slow songs Goto Maki used to release. I am extremely happy about the overall quality of the song. Kikka's popularity already mixed with her incredible vocals, means she could become the most popular H!P solo artist in a while. I just really hope she mixes up the genre of her music. It seems like once a H!P solo artist starts making soft, sad, ballads they become less popular. I would hate that to happen to Kikka. I would also hate for ManEri to get all the happy, upbeat, and fun songs and give all the slow songs to You because she'd actually be able to sing them. It really seems like being passed up for the 8th generation of Morning Musume was the best thing that every happened to Kikka.
Anyway here's the concert rip of Sayonara Namida. I'm actual surprised by how good the quality is. So listen to this and be prepared to be blown away.