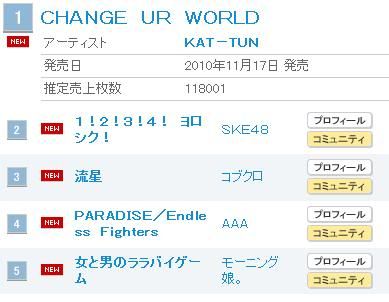 That's right 4 idol groups were releasing on the same day: AAA, Morning Musume, KAT-TUN, and SKE48. It was inevitable that one would triumph over the rest. But the coveted title went to, of course, KAT-TUN.

From the very first day SKE48 fans and Morning Musume fans only worried about beating each other. A lot of fans seemingly forgot that KAT-TUN was releasing on the 17th as well. And of course after it was announced that KAT-TUN was releasing on the same day, there was no way either idol group stood a chance.
The Oricon Daily Chart goes as follows:
1. KAT-TUN – Change UR World
2. SKE48 – 1! 2! 3! 4! Yoroshiku!
3. Kobukuro – Ryuusei
4. AAA – PARADISE/Endless Fighters
5. Morning Musume – Onna to Otoko no Lullaby Game


Yes, SKE8 did beat Morning Musume by 3 spots. So I guess in a sense they did win. But none of that even remotely matters. They both lost to KAT-TUN, so basically it's as if they both ranked at 24. Even if SKE48 did beat KAT-TUN, it wouldn't really matter anyway. It would only matter to the anti H!P 48 groups fans, who would use this as a way of saying their idol agency is better. Which is petty and meaningless. I just think it's funny that all this ruckus was made that SKE8 would beat Morning Musume, but they both lost.