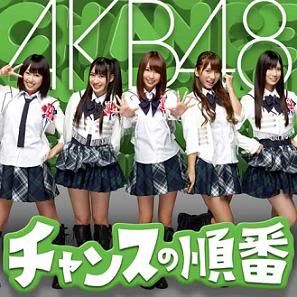 With less than a month until the release date a radio preview for AKB48's 19th single, Chance no Junban is out.

I usually have a love hate relationship with AKB48 singles. Or I should say it takes me a while to like a majority of AKB48's singles. Their are hardly any songs I like instantly. But after a couple of weeks I'm usually in love with the song. Like Beginner for example. I hated the song when I first heard it because it was too heavy and not cutesy enough. But now I am in love with the song. Mostly because I read a translation of the lyrics and they are great. Or Oogoe Diamond as another example. I heard Oogoe Diamond for the first time and was annoyed by the music. It took me a couple of months before I actually started to love the song. And know it's one of my favorite singles.
I'm sure you're wondering what all of that has to do with Chance to Junban. But I'm getting to that! XD
I wanted to merely show by basis of how I judge AKB48 songs, and how critical I am of their songs even if they are great. Mostly because I am instantly in love with Chance no Junban. That's right instantly in love. I love how the song is all sparkly, upbeat, and adorable. This is pretty much how I like all my idols to sounds. Of course their are some exceptions like the lyrics and if the different sound is a good thing. I am actually pleasantly by how good the song is. In all honestly, I didn't expect to like this song. I don't even know why, I just didn't. And now I am actually looking forward to the PV. Let's hope it's better than Beginner, and less fanservicy as Heavy Rotation.
On another note, personally, I am extremely sad that me beloved Mayu isn't part of the A-side. However, I am excited that girls I have never heard of will be featured in this single's A-side. (Since, I only care about the A-side. I'm not a big enough AKB48 fan, yet, to care about Under Girls and Theater Girls. So, sue me!) It will help a lot for me to remember their names, and have them burned into my memory once and for all. Since I only know a handful of girls featured in Chance no Junban. (If you at all care here are the girls I know of: Kojima Haruna, Nakagawa Haruka, Maeda Ami, Takajo Aik, Kuramochi Asuka, Kasai Tomomi, and Maeda Atsuko. Which is less than half. XD)


Sorry about the long post. Here's what you came for, the preview.