I remember back in the day Daigo Stardust used to just be that one lucky guy that Miyavi kissed. Since then he's changed to be Daigo the super sexy lead singer of BREAKERZ. And also an AKB48 fanboy. Here's a clip of him singing Aitakatta by AKB48.

It seems Daigo has outdone himself this time. During their performance at the Halloween Party 2010 Daigo and his BREAKERZ band mates dressed up as AKB48.
But according to them they were BRZ48. Which I think is incredibly hilarious and awesome. Ever since I saw that clip of him singing Aitakatta I always wondered who his favorite member was.
By the looks of his costume, I'm guessing he's a huge Maeda Atsuko fan.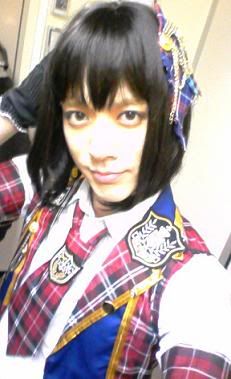 Which is lame, there are tons of way prettier AKB48 members, Mayu for instance.