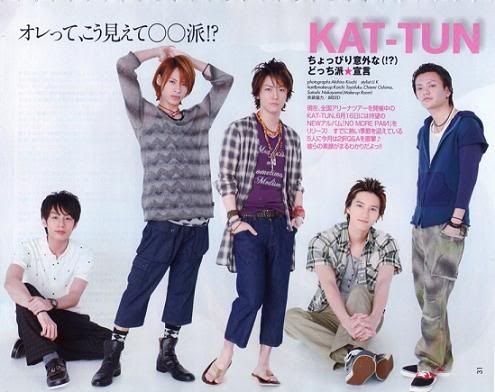 KAT-TUN will be releasing their first single in their new Jinless era on November 17th. The song is entitled Change UR World and is being used as the theme for Kame's news show Going! Sports and News. In my opinion this release seems pretty rushed. The single was announced only one month before the release. Usually JE releases are announced at least 2 months in advance. But 1 month, 2 months, I guess it's not really that big of a deal. It's less time we have to wait for a PV.

I find it completely hilarious and ironic that their very first official Jinless release sounds completely like the songs Jin shines in. Jin always sings in this breathy sort of sexy manner. And that's exactly how this song sounds. I actually mistook Kame and Maru for Jin. And tell me Kame's Change UR World screaming at the end doesn't remind you of Jin's backup/screams from Real Face. Literally after hearing the first 30 seconds my actual reaction was, "wow Jin sounds great in this." Then I of course immediately realized that Jin isn't even in KAT-TUN anymore.


But beyond the whole Jin-ness of the song, I think the song is absolutely amazing. This song blows Going and No More Pain out of the water. There isn't even a competition this song just automatically wins. The music is pretty intense for most of the song but when the chorus ends the music is absolutely incredible. It's like Keep The Faith mixed with Real Face but times a thousand. I'm sorry V6 and NEWS, but I think KAT-TUN has just made the best song about changing a world.
The line distribution seems pretty fair. It seems like every member gets a solo. And Koki's is absolutely hot. But Koki's rap is actually pretty weird sounding and it kinda throws the song off track for a bit. Which I'm sad about because Koki's raps are usually the best part of KAT-TUN songs. And not even because I'm a biased Koki fan. Koki's raps are usually just full of win. But in this song it sounds like Koki has the hiccups while rapping. It's kinda funny.