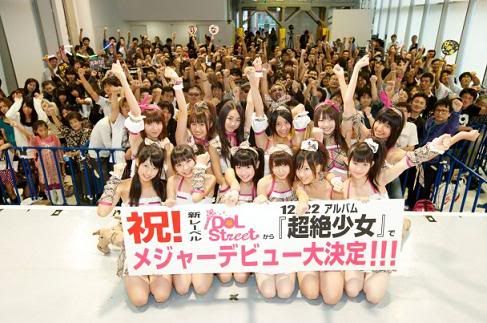 Avex's new idol group, SUPER GIRLS, announced at a recent concert that they will be making their CD debut on December 22nd. They will be releasing a full album entitled Chouzetsu Shoujo.


I have to admit I haven't really been keeping up with this group. Mostly because there hasn't really been anything to keep up with. Aside from their formation, auditions, and live performances, they haven't really been doing much of anything. But since they are finally making their debut I am pretty interested. And the group is singed to Avex, so it will most likely be really popular. So I decided to check them out.
First things first, the girls.
For the most part the girls look really cute. Especially the girl dead center with the pigtails. My god she looks like a mix between Watanabe Mayu and Michishige Sayumi. I'm pretty sure it's 12 year old Ami Takuya. I also really like their overall look. Though it's pretty standard for idols.
And next the music. Since they haven't released a single or PV, I have to go by live performances. Which by the way, are pretty hard to find. But luckily I found their performance at the 2010 Tokyo Idol Festival.

The songs are really cute. But there's not really anything that stands out about them. They pretty much sounds like every other idol group out there. Actually their music sounds a lot like Idoling!!! But I ended up liking each song more than the last.

The solos are also a little bit rough. And no one in the group is an overly amazing singer. But they are idols after all. Bad singing is basically in their job description.

I will most likely be keeping an eye on them from now on. Let's see if their debut album and possible PV are any good.

SUPER GIRLS at Tokyo Idol Festival part 1:

SUPER GIRLS at Tokyo Idol Festival part 2: