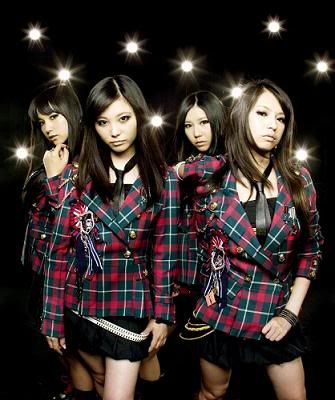 Back when I was blogging about Shunkan Sentimental I said I was going to stop neglecting SCANDAL, and was going to post more about them. Well, here we are 3 singles and an album later. With a new single and mini album being released in a matter of 2 months. And of course I feel completely awful about not blogging about them, because I really do love SCANDAL. And they have yet to release a single I don't like.
On Octomber 6th SCANDAL will be releasing a new singled called SCANDAL Nanka Buttobase. The composer for the song said he's going in a different direction with this song and is making sound like it's from the 1970's.
I absolutely love this new direction from SCANDAL! It definitely sounds like a 1970's rock song. This is probably the heaviest single SCANDAL has released. Shunkan Sentimental was a little heavy, but this takes it to the next level. Which is a welcomed change. SCANDAL usually releases softer rock songs, which in the US would be considered pop punk. Don't get me wrong I love their previous singles, but it's nice to hear something new every now and then. I absolutely love everything about this song, I automatically fell in love with it the first time I heard it! The harmonies in this are also really amazing.


And am I hearing things or did I actually hear the other members sing? Maybe it's just wishful thinking since they never sing. But I want to hear my beloved Rina sing, she has an adorable voice!