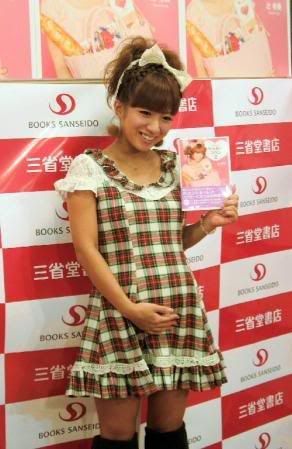 On November 24th Tsuji Nozomi will be releasing her first album entitled Minna Happy! Mama no Uta. Which even with my limited Japanese I can translate it to Everyone Happy! Mama's Song.
I am extremely happy that Nono will finally be making music again. I just complained recently on my blog that I would love to see Tsuji making music again. And of course as soon as I heard about this the first thing that came to mind was, what kind of music will Tsuji be making? Will she continue to release the W type music she used to or will she start releasing more mature music now that she is a mom? The title of her album kinda makes it seem like she'll be making music geared towards children. Which I hope is not the case.
I also really wish Nono was still part of H!P. I can totally see her touring with S/mileage. Especially since she was just in their PV. Maybe they'll at least perform together sometime.
I also wonder if she'll be releasing a PV to promote the album. Japanese artists hardly ever release PVs for album tracks. And she doesn't have any singles currently, so she'll have to release something to promote the album. Since it's being released in November perhaps she'll release a single right before the album. But it seems to close for that, and she would have announced the single first. I really don't know right now. This new is giving more questions than answers.