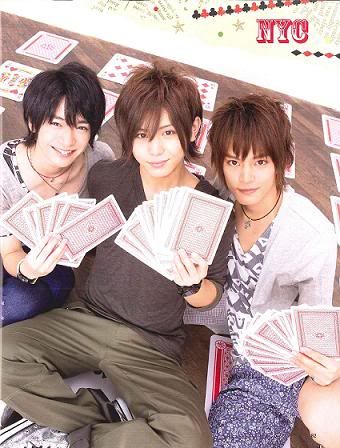 The preview for Johnny Entertainment's sub group NYC's 2nd single, Yoku Asobi Yoku Manabe, will be released on October 20th. Much like everything with such a short time to it's release date we have the song preview.


First off, since I never made a legit post dedicated to this, does this mean NYC is like an official group? Having a main group and a subgroup is no big deal. Tegomass, NEWS, and Kanjani8 all do fine coexisting together. But I can't help but feel extremely sad for B.I. SHADOW. I get it though. Johnny was testing the waters with Nakayama yuma w/ B.I. SHADOW. Which is why they never got their own release instead they shared one with NYC Boys. Once he saw that B.I. SHADOW was an utter failure, he cut the ties, and continued NYC Boys without the Boys. That's gotta hurt to all the B.I. SHADOW memebers, who will probably never get another single or their own single.

And I gotta say I never really expected them to release another single. Yes, I thought Yuki 100% would be it. In retrospect I guess that's kind of stupid. Since NYC has the potential to be extremely popular. They probably already are because of all the pimping at HSJ concerts and events. But I honestly don't follow them that closely.

As for the song I do like it. Mostly because it sounds a lot like Yuki 100% and NYC. And I liked those songs a lot. I even really liked Akuma no Koi though. It's half slow, half upbeat. It's really nice to listen to. I'm also glad that they got their own song instead of another cover single. Which means the PV for this will most likely have a higher budget then Yuki 100% did. But much like the other NYC, NYC Boys, and most HSJ songs Chinen's voice ruins it a bit. I just find his voice to be extremely irritating. And my general dislike for Chinen doesn't help either.