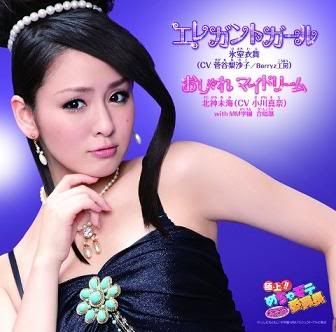 A commercial was released to promote Sugaya Risako's first solo single, Elegant Girl, giving us a short preview of the PV. Which is completely unexpected because it's also the first time we're hearing the song.
I really wasn't expecting this single to be so soft sounding. Though it's called Elegant Girl, which should have given me my first clue. But I was actually expecting this to be pretty tough and loud, because isn't Risako's character supposed to be mean or the main character's rival or something? The song itself sounds really pretty, but I'm not feeling it. In my honest opinion it's a little forgettable. Let's hope her second single is better. Or a Ogawa Mana duet!


The CM is far to short to get any substantial feel of the PV. All we've actually seen so far is the close up shots. But in that short time makes it look it's going to be exactly like the Itoshiki Tomo he PV. Or the Bokura ga Ikiru My Asia PV. Both Morning Musume Tanjo 10nen Kinentai PVs were basically the same. Also I think I'm the only one who doesn't like her evening gown hair. I honestly think it does nothing for her. I prefer Risako with her hair down.