Morning Musume members and Morning Musume OG members performed on Hey! Hey! Hey!'s Idol special. They performed a 3 songs medley that included the songs Renai Revolution 21, Koi no Dance Site, and Love Machine.

Firs off, let me start by saying am I the only one who wants them to preform something else? I know since the OG are there they sing all the old songs, but I would actually prefer them to sing their newer songs. Or at least both old and new songs. It would be a nice change. I'd even settle for once. I just want to see how Nakazawa Yuko would sound singing Kimagure Princess. XD
Also can anyone tell me why there are missing OG members? I don't know if you guys noticed but their are 4 OG members missing from this performance. Those members are Fujimoto Miki, Ogawa Makoto, Konno Asami, and Kusumi Koharu. They're missing for absolutely no reason at all! That just completely irks me. Besides I miss my beloved KonKon and Koha!

I though the overall performance was enjoyable to watch. But it honestly wasn't much different than all the other Morning Musume current and OG joint performances. Besides costumes and solo lines, you can barely distinguish between them. It also seems like Iida Kaori might have been sick. She didn't rock her solo in Koi no Dance Site.

I also decided to make screencaps of this for fun. XD

Who is this random fat chick they keep focusing on like I'm supposed to know who she is. XD It's pretty awesome that she dances along though. An obvious fan.

Pretty LinLin is pretty.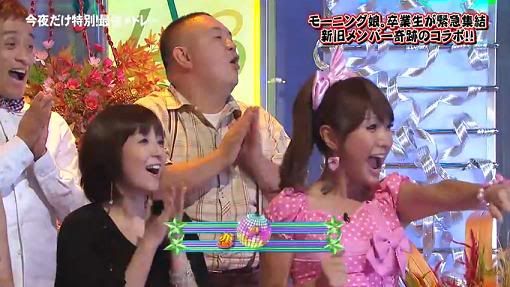 OMFG! I love Haruna Ai. XD

No one does Sexy Beam better than Mari.

I'll never understand how they change clothes so quickly. It was just a jacket and it was still like half a second!

Yasuda's ja na is just a tad too aggressive. XD

It's amazing how good Yuko looks for her age.

Lolz at how overly excited she is. Who am I kidding, I'd act the same way. XD

Nono! I completely forgot that she wasn't there either. Well she is pregnant. XD
I could not resist focusing on MatsuJun throughout the whole performance. Half because Jun is hot and half because his almost arrogant lack of interest.

WTF is MatsuJun doing? One could mistake his look for awe. But if you asked me he looks frightened. Maybe because of the number of girls, their obnoxious outfits, or maybe he's just thinking how much better Arashi is. XD

Look how he's smugly looking away!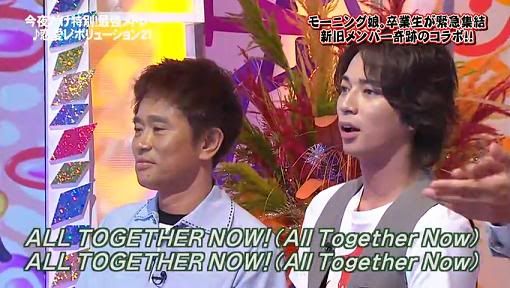 Ok, he looks semi interested now.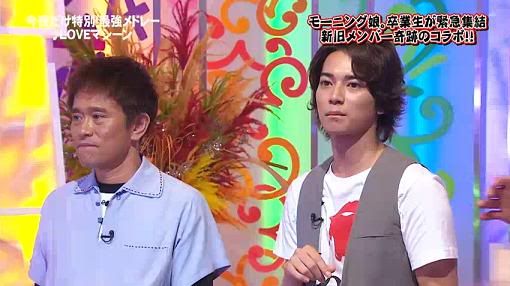 Jun's blank stare. O_O

The final reaction is a lie!

I wonder what Jun is saying to Morning Musume? All I can understand is Love Machine and Utaban. XD I think he also said Mari's Sexy Beam made him happy. Lol.

Also you should hurry up and watch the clip if you want to see it. No doubt it will be deleted from youtube soon.