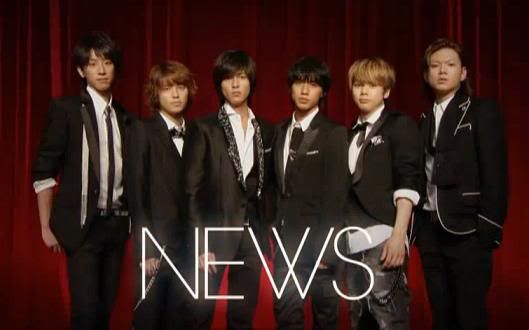 For the promotion of their 4th album live NEWS made 3 different commercials. Well, they're not so much different as just being different versions of the same commercial. But different nonetheless. The three versions are dubbed the Yamapi version, the Massu version, and the Kei-chan version. Which is a kind of unfair to the other members if you ask me. But i guess it's fair when you take into account that Tegoshi and Ryo have recently starred in their own solo commercials. As for Shige, I don't know. I guess everyone just hates him. XD

Since I only know minimal Japanese let's focus on what's really important during these commercials, their overall looks.
Yamapi: I am completely ecstatic that his "what was he thinking" perm is all but a distant ugly memory. And he's back to having sex hot hair. It's pretty similar to my favorite Yamapi hairstyle, his Kurosagi hair, yet it's a little different. I guess it's a little more mature.
Massu: I don't find Massu to be all that attractive to begin with but he's even more so with blonde hair. I don't understand why he went back to his Tanabata Matsuri hair as if that was a good look for him.
Tegoshi: Pretty much the same as usual.
Shige: Shige's hair is an abomination! It looks like his Sakura Girl hair but worse. He looks completely hideous, which makes me uber sad.
Ryo: Looking the same but still adorable.
Kei: Kei looks incredible. His short cut and dark hair is probably my favorite Kei hairstyle. Whenever he has his hair like this he look incredible. I absolutely hate his constant blonde hair. With his dark brown hair he moves for a pitiful 3/10 to a solid 7/10.

Overall I think the CMs are pretty much standard new album CMs. Nothing extremely amazing going on. Except for Ryo of course. Maybe it's because of my obvious Ryo bias but I was paying the most attention to Ryo throughout the commercials.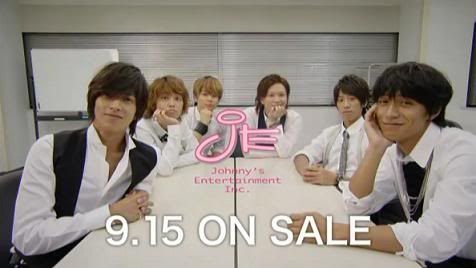 From when he's the only one slyly smiling in Yamapi's CM.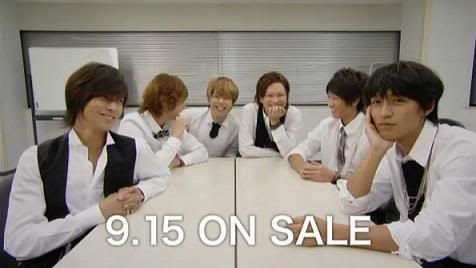 To when he's the only one not laughing in Massu's.