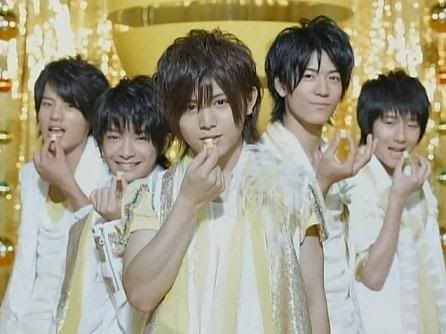 While I was feeling under the weather Hey! Say! 7 released another Lotte Fruitio commercial. Now I'm always super excited for a new Hey! Say! JUMP commercial, especially one starring my beloved Yuto. However, I'm a little bit sad Hey Say 7 gets far more pimping than best does. Even though I like 7's music more, Best has more of my favorite members. I'd kill for a new Best themed commercial or song. But apparently that's a pipe dream.
But I digress. This new commercial is pretty much identical to the last commercial in every way possible. They dance to Kagayaki Days again, they are wearing near identical outfits from the last CM, and the boys are in the exact same positions. The only main difference is this commercial is lemon/yellow themed rather than grape/purple. And yet I find this CM to be completely adorable. I love how they stop mid dance because, the lemon is either too sour or too bitter. Which was of course unexpected. And you have to laugh at Yuto's over acted, nonrealistic reaction.
But probably my favorite part of the commercial was Ryosuke.
Him saying paradise was the hottest thing ever. How he says it in a breathy almost whisper. No wonder he has so many fangirls.