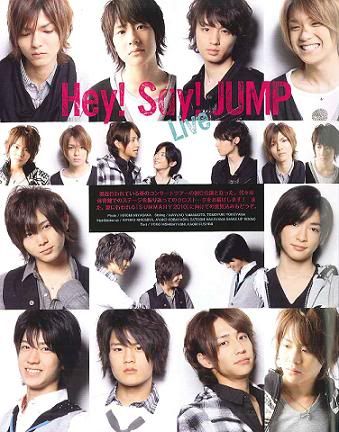 Now as you know I never make entire posts for a CD's track list. And I also never buy the CD, so I never care about a track list. But since I preordered a copy, I feel much closer and more involved in the CD. So, things like the track list and covers are a pretty big deal to me. So here is the track list for JUMP No.1.
1.DREAMER
Lyrics:Yabu Kota
2.INFINITY
Lyrics: Yaotome Hikaru
3. Hitomi no Screen
4.Shinku
Lyrics: Yamada Ryosuke 
5.Ganbaretsugo!
6.Jounetsu JUMP
7.Sumairu songu
Lyrics: Chinen Yuri
8.Memories
9. Dreams come true
10.Time
Lyrics: Takaki Yuya
Arrangements: Arioka Daiki, Eddy
11.Score
Lyrics: Yabu Kota
RAP lyrics: Yaotome Hikaru
12. Your Seed
13.Ai☆sukuriimu
Lyrics & Music: Yaotome Hikaru
14. Mayonaka no Shadow Boy
15.Dash!!
Lyrics: Nakajima Yuto
16. Ultra Music Power
17.Thank You ~ Bokutachi kara kime e
Lyrics: Hey! Say! JUMP 
I left the lyrics that were written by JUMP members up. That part is also written in red.
First off, I was extremely happy when I first found out the track list was out. I had to literally calm myself down so I could click on the link. I am pretty pleased with the track list.
Of course there are songs I wished were on there. I especially wanted Nounai Dance and Su.Ri.Ru. But there's nothing I can do about that. Except cry and/or complain. And that wouldn't solve anything.
We've heard 9/17(5 of them obviously being the singles.) songs on the album, which is actually less than I was expecting. I was expecting it to be filled with old songs, and maybe 1 or 2 new ones. But I guess it's better to have new songs rather than just the same old ones over and over. But people are going to complain either way. Since there's not enough old ones, people will complain they wanted more old ones. But on the other side if there were no old ones, people would complain that they wanted more old songs. You can't really win, or make EVERYONE happy either way. Personally, I would like JUMP to release all of their old song officially one of these days. Even if they have to do it like they are now. Throwing a few old songs in with each new CD release.
Enough of my semi-rant, let's focus on the good. The good being there's 8 never before heard songs on the album. Which is pretty exciting. What's even more exciting to see, is who will sing what. Since there doesn't seem to be any solo songs. And there's only 1 HSB songs, 1 HS7 song, and 2 groups songs.(excluding the singles of course.) So it's really anyone's gues as to who's going to sing what. Though there will most likely be a Yabu and Hikaru duet.
Another great thing about this album is HSJ members wrote all of the unheard songs themselves! Two songs penned by Yabu, two songs plus rap part of Score by Hikaru, one song by Takaki, one by Ryosuke, one by Yuto, one by Chinen and one by JUMP as a whole. I bet you Thank You ~ Bokutachi kara kime e is just like NEWS's Share. Where NEWS as a whole wrote the chorus, and each member wrote their solo verse. I also want to hear Dash ASAP! Any song written by Yuto is automatic win! All and all this is pretty impressive. I think they are the first JE group to basically write their own album. I wonder if the members of the JUMP band are playing any of the music for it? That would be cool too.
But the last thing that makes this album awesome is the songs they decided to keep are amazing. Score and Ganbaretsugo were obviously chosen as the BEST and 7 group songs because all the members get solos in the song. Though Ganbaretsugo is less than fair to Ryutaro and Keito. But I love both songs. Especially Ganbaretsugo, I listen to it nearly everyday. And I've always really liked Jonetsu JUMP. So I'm really excited to hear the full version of the song. Which there has to be because I doubt they'll put a 2:30 minute song on an album. And Memories is a good song, it's not personally my favorite. But a lot of JUMP fans seem to really like it.
So yeah what else can I say? Other than I wish it was July 7th already.
Also, here are album songs that we've already heard from JUMP.

Score:


Ganbaretsugo:


Jonetsu Jump:


Memories: