The cover's for H!P's 2012 calendars have been released. And let's just say not all calendars are created equally.

Morning Musume's calendar.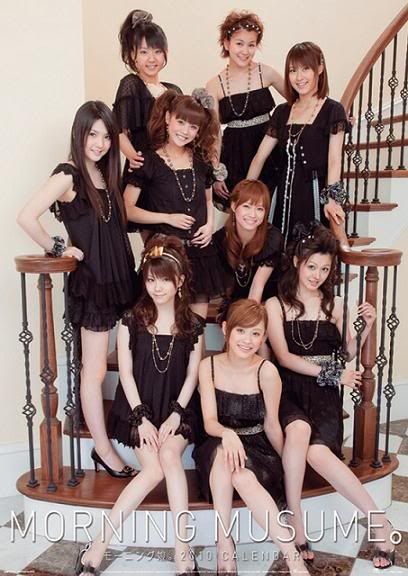 I know Morning Musume has been styled this way 1,000 times, but I love the cover. Everyone one just looks gorgeous. Especially Koharu, she has the best hairstyle hands down. My eyes were immediately drawn to her because she's the only one doing an interesting pose. Everyone else looks kind of flat pose wise. I also think Aika looks amazing with that hair. They should always style her hair like that. Half of the time her hair is just straight or ugly. I would have liked to see them do something with LinLin's hair, it just looks boring. I loved her curly hair from Naichau Kamo. In my opinion it should be curled. But, I think Sayumi looks great with just her straight hair. She's one of the few people who look better with it down.
And for a random observation, why are Sayumi's shoes different? Ai, Reina, and Koharu are all wearing the same shoes, but Sayumi is wearing a differen and uglier shoe. I thought Aika was the one who supposed to wear different shoes.
Berryz Koubou's calendar.


I have to admit I am a fan of the tux/bartender outfits. I don't usually like when H!P members where suits, with an exception to Buono and Risa. But overall I think they look really cute. And surprisingly my eyes were drawn to Risako, Chinami, and Yurina. Well I was drawn to Yurina for obvious reasons. Chinami is the only one smiling on the cover who actually looks believable. Everyone else's looks forced. Especially Miyabi's, it kind of looks like she's in pain. As for Risako, I'm not exactly sure why I keep looking at her. She looks about the same as she always does.
I think the background for this is a little simple looking. It looks like something I could makes on photoshop. Which is saying a lot with my limited skills. Simple or not, it does look cute. It brings a nice splash of color to it. Without the rainbows I think everyone would have ended up looking washed out.
C-ute's calendar.


It's C-ute's bus tour 2010! ._. I can't be the only one out there who think these outfits look similar to C-ute's bus tour outfits. I know this one is stripped and the other one was houndstooth, but the color scheme makes them look very similar.
There's not really much going on that I like. This calendar looks bare. Losing 2 members doesn't really sink in until you see a picture like this. The calendar and group looks empty now. I miss Kanna's cuteness to make it look more lively. Well Airi looks cute, that's about the only thing this calendar has going for it. The only thing C-ute has.
ManoEri's calendar.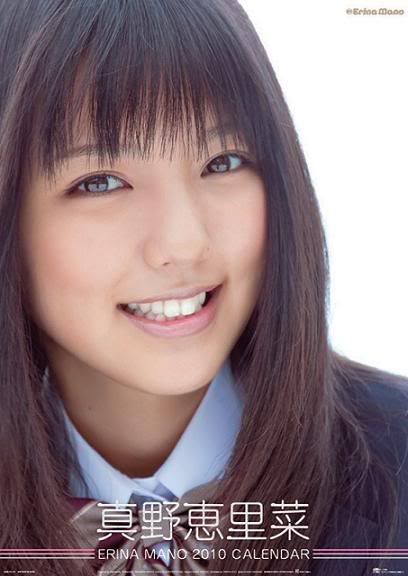 It's yet another picture of Erina in a school girl uniform. Yeah I understand she's kind of cute, and she looks cuter in her school girl outfit. But should that really be the only thing she ever wears? This cover looks exactly like the cover of her first major single. I'm not going to even pretend I know the name of it. XD
I'm pretty sure it's the same exact outfit. Boring! Next! I wish there was a next.