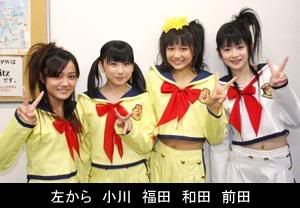 Tsunku announced on his blog yesterday that there will be a new Egg unit debuting this fall. It was also announced at H!P Eggs Shinjin Kouen concert. The member will include Ayaka Wada, Yuuka Maeda, Kanon Fukuda and Saki Ogawa.
Now at first glance you could think this new H!P unit is Shugo Chara Egg. I know that's what I immediately though. However Shugo Chara Egg member Akari Saho is missing. She was replaced my H!P Egg Saki Ogawa. Which isn't really fair to Akari if you ask me. Since I don't follow the Eggs at all I know nothing about Saki Ogawa. So I'm really looking forward to how she sounds.
Probably the best part of this unit is Kanon and Yuuka are in it. I have really grown to love Yuuka and Kanon because of Shugo Chara Egg and High King. I'm really glad that they aren't going back to being just Eggs. And a major debut might mean they will graduate from being Eggs all together. Which is exciting news.
So with a new Egg unit forming I guess that probably means Shugo Chara is over. Which isn't really the best news. This new group better be incredible to make up for that.