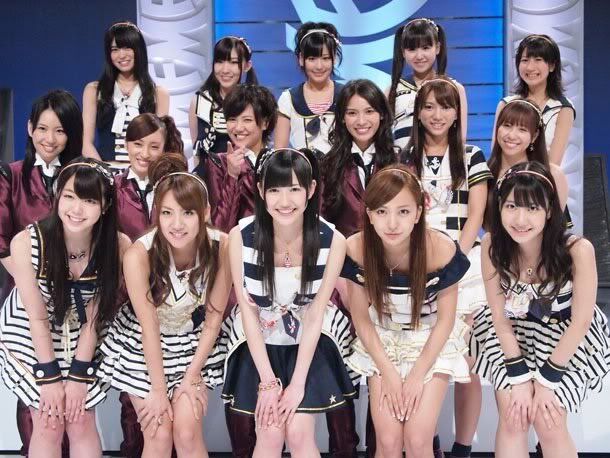 AKB48's new single, Everyday Kachuusha, has just broken the record for a single's best first week sales. They broke the record in just 5 days beating the previous number one single, Mr. Children's Namonaki Uta. And I am actually really angry by all of this. I think AKB48 is completely undeserving to break the record and to hold such a high honor.
And don't go thinking I'm bitter because AKB48 broke the record and not my favorite idol group, because that is absolutely not the case. I don't think ANY idol group should break a record like this. Not Morning Musume, not NEWS, and certainly not AKB48. I think this coveted position should be held by a legit artsit who deserves it. Not an arist who was only picked because they danced around in bikinis and are the newsest flavor of the week. Yes, I realized their popularity is HUGE and has been for years. I simply mean that eventually people will move on to some other idol group. And that new idol group will be the "it" group and the new flash in the pan. And years from now when no one cares about AKB48 anymore people will be saying, "I can't believe such and such established artist can't beat that has been idol group. And sadly that's most likely going to happen.
And to anyone out there who thinks AKB48, or any idol group, actually deserves to win you are lying to yourself. AKB48 didn't win because the song is that amazing, beautiful, or meaningful. They won because they are insanely popular and they made a suggestive PV. (I can hear the people crying, "The PV is innocent. Bikinis aren't suggestive. I can't think of anything more innocent then dancing and parading around in bikinis." Right, because only obvious sexual behavior is suggestive.)
It just makes me angry. I heard and read the translation for Mr. Children's song today. It's beautiful. The singing is actually kinda bad, but the lyrics are really pretty and sweet. And I can completely see why they held the top spot. It's a song about being there for the person you love. No matter what happens, no matter how difficult things get, you'll always be there for them. AKB48's song on the other hand is a mediocore pop song about it being summer. And basically mundane things you do when it's summer such as running in the seas breeze, having the sun beat on you, etc. And of course it's the typical idol lyrics about loving someone from a far, and blah blah. The lyrics are just ok. They aren't heartfelt, they aren't even the best lyrics or best song by AKB48. If Beginner or Keibetsu Shiteita Aijou won, I still wouldn't like it but I'd get it more. There was just absolutely no reason why this song won.
I would love to hear a fan try and defend this situation, because they can't. And any fan that can't realize that they are undeserving takes idol music and idols far too seriously.
If I'm being honest here I don't think either songs were amazing enough to win. If I had it my way Uemura Kana's Toilet no Kamisama would win. That song is so heartbreaking, it makes me cry every time I hear it.
I don't know, I love idols and all but I don't really like it when they start beating legit artists for things. It kinda makes me angry.