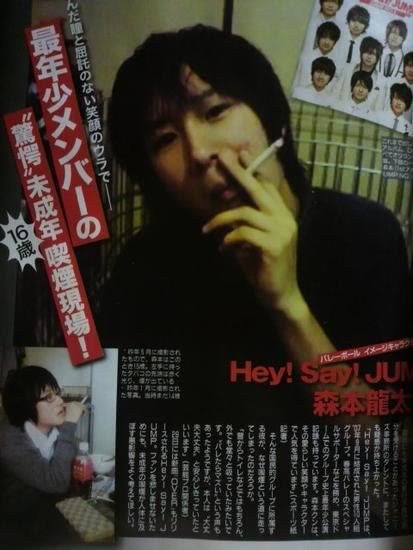 A completely unexpected and shocking scandal is rocking the idol world. Hey! Say! JUMP's youngest member, 16 year old Morimoto Ryutaro, has been caught underage smoking. And because of this scandal Ryutaro will cease all of his activities in the entertainment field indefinitely. He will also be edited out of the cover of Hey! Say! JUMP's new single, Over, and will not participate in the Summary concerts.
Here are the larger pictures of him smoking: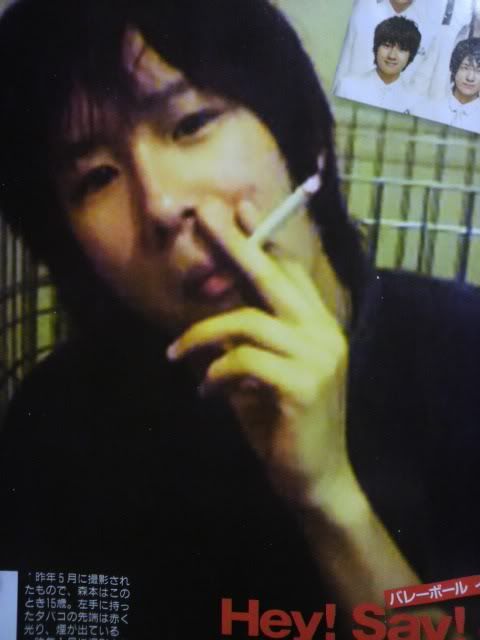 Is anyone else having really bad Kago Ai flashbacks? All Ryutaro needs to do is date a 40 year old woman, and he's as good as history. All joking aside, this is a completely serious issue. Not only is underage smoking illegal it's also taken very seriously in Japan. It's easy for fans living in the West to dismiss this scandal as not a big deal at all. When underage celebrities in America are caught doing a lot worse, nothing happens to them. Back in the day Lindsay Lohan drank underage, Taylor Momsen flashed her underage boobs, and Miley Cyrus was caught smoking "salvia." Among many other underage scandals that I'm sure exist, but don't know of off the top of my head. But for some reason in the US they got a slap on the wrist, and people didn't seem to really care. However, just because America seems to be more lenient about these things, doesn't mean Japan should or will be. We're talking about idols here. Idols who get kicked out of their group for being caught with a boyfriend. (Well, that only happens to female idols. I won't get into how unfair and sexist that is.)
People should legit be worried that Ryutaro might never return to Hey! Say! JUMP again. I am sure everyone is familiar with the big NEWS scandals of 2005 and 2006. First NEWS and Kanjani8 member Uchi Hiroki was suspended indefinitely for underage drinking. Then in 2006 NEWS member Kusano Hironori was caught for the same thing. Which of course lead NEWS to go on a year long hiatus. And we can all see how that turned out for them. They never returned to their groups. And are pretty much in obscurity. It took Uchi 3 years before his comeback solo concert. And since then all he's been up to is random appearances on Shounen Club, is part of the Johnny's New Year's Countdown, and he was in a drama. And that's it. In the 3 years since his scandal he's basically done nothing. He's only done the little bit he has done because he was a fairly popular member. But what about Kusano? Kusano, who to this day I am convinced is completely innocent. If you look at the pictures it does not look like beer. In Kusano's parting words he said something along the lines of even though I am compeltely innocent I will dissapear from the public anyway. It was completely sad. And what is Kusano up to? Nothing! He studied dance in New York for a year and was a model for some random brand. But his pictures are still blurred in tabloid papers. All because Kusano wasn't that popular. Uchi, who was drunk in public and was a public nuisance, got to make his comeback. But Kusano, who is seemingly innocent and even claims to be innocent, has done virtually nothing. And to be honest, none of that makes sense to me. The only logical reason for it has to be because Uchi is more popular and can make more money then Kusano can.
And if Kusano isn't doing anything after his scandal because of popularity, where does that leave Ryutaro? Ryutaro is obviously one of the least popular Hey! Say! JUMP members. He's on the bottom tier alongside Inoo Kei and Okamoto Keito.
Fans could also argue that Ryutaro will be fine because smoking isn't as a big a deal as drinking is. Which seems a little weird to me. I don't really think you can judge the 2 in that way. Underage is underage. Whether it's drinking or smoking. That's just my opinion though. Obviously JE thinks it's a huge deal. It's such a big deal that he is being treated to the same punishment that Uchi and Kusano were put under for a quote unquote less severe scandal. Also, note that Ryutaro was put on an indefinite suspension. Indefinite! Which means this suspension can last for however long Johnny's sees fit. 2 weeks, 2 months, 2 years, or never if he feels like it! Don't just assume that everything will be ok for Ryutaro because you feel it should be. Or that you feel it's not a big enough scandal to warrent an indefinite suspension. The bottom line is Johnny's makes the decisions. He decides what's fair and what's unfair. What's a scandal and what isn't. And the other bottom line is, Ryutaro broke the law. Which in turn makes the entire agency he works for look bad. I've said this before, I will bet you a million dollars that all idols, yes ALL idols male and female, have to sign a morals clause. And if they break that at any time the agency has every right to fire them, or punish them however they see fit.
On the other hand, maybe fans are right and smoking scandals aren't that big of a deal. And Ryutaro will eventually return to Hey! Say! JUMP. So, let's look at the only other idol smoking scandal I know of, Aibon's. In 2006 Hello!Project member, and member of idol group W, Kago Ai was caught smoking underage. In a very grainy and unclear tabloid picture I might add. Aibon was immediately suspended for one year and W's next single was put on hold. She then was later fired after being caught in another scandal. When Aibon eventually made her comeback she talked to teenagers and encouraged them to not smoke underage. She said that one foolish and careless act ruined her life. In responce the people she talked to said how they were shocked and disgusted by her scandal. They couldn't believe she would do something like that. Not only because she seemed to be a good girl, but because she was a role model. However, Kago Ai was extremely popular, and therefore lucrative for H!P. I firmly believe she was only given such a small hiatus because of her popularity. And we all know that if a member of H!P is popular enough their scandals get swept under the rug or are more lenient. Nothing came of Tanaka Reina's, Kamei Eri's, or Natsuyaki Miyabi's boyfriend scandals. But less popular members like Arihara Kanna and Murakami Megumi were given the boot. Or excuse me, they left to "continue their studies." And even popular members Yaguchi Mari and Fujimoto Miki were forced to resign as leader of Morning Musume after their boyfriend scandals. H!P scandals also come down to popularity, and their position within the group. Obvious a leader in a scandal was setting a horrible example for the rest of the group.
All Morimoto's future really comes down to is luck and popularity. Ryutaro obviously doesn't have popularity on his side. So, fans just have to hope that Johnny realizes that smoking underage isn't really that big of a deal. I mean, apparently Johnny knew Ryutaro was smoking from time to time. I think that will play a big role in how long he is under suspension.
But for me personally, I actually don't care that much about this scandal. Yes, it is sad that he's under suspension and he may never come back. And that HSJ might never be 10 members again. Or that fans are left hanging about his fate like they were with Uchi and Kusano. All of that is incredibly sad. But Ryutaro isn't really my favorite member. And as selfish as it sounds, I'm just happy it's not a member I actually care about. That and the fact that I don't really feel any sympathy for him. It was his fault. He was the one that not only broke the law, but was stupid enought to let people take pictures of it. The one picture he was legit caught off guard. But the picture where he's wearing the black shirt, he's trying too hard to look cool, and it looks almost like he's modeling for the person who's taking the picture. If Ryutaro can't do the time, he shouldn't have done the crime.