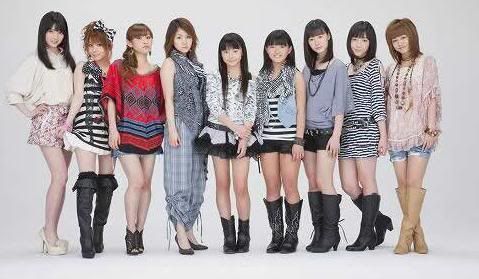 On today's Bijo Gaku episode they continued with the 9th gen segment and this time showed they a short making of the Maji Desu ka Ska PV as well as a minute and a half preview of the PV.
I have to say that I caved and watched the whole segment. I know when the short version of NYC's Yume Tamago came out I make a big deal about watching it because it would ruin the PV. However, I couldn't resist watching about Maji Desu ka Ska. Mostly because I am so in love with the song and what we have seen of the PV so far.
But I will not comment on the preview of the PV because the full PV is going to be released any day now, and it would ruin my PV post. But I will say that I am even more excited for the PV. There seem to be more elements to the PV that us fans have never seen before, and didn't even know existed. And I would also say look out for Fuku and Zukki. They are the most energetic and interesting during the filming. I was actually surprised by how lack luster Riho and Erina were. Especially, since she said how she wanted to be the most energetic one. Come on, no one could possibly beat Kanon. Well, that aren't so lack luster that they are boring. Riho and Erina are enjoyable to watch but they Kanon and Mizuki stand out the most.
Here's the full 9th gen segment, for anyone who wants to watch the whole thing.
And here's just the clip of the PV preview.