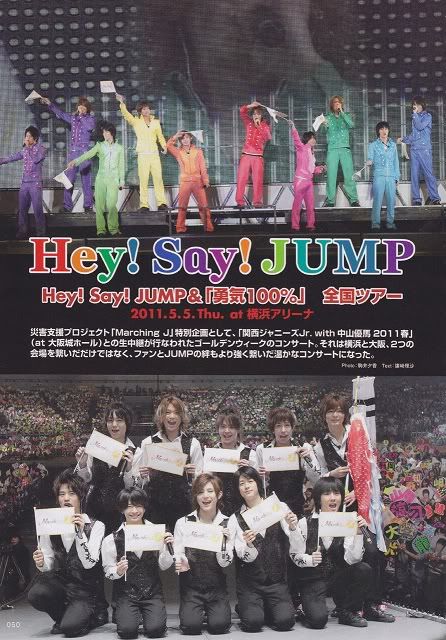 It was announced recently that Hey! Say! JUMP will be releasing their first single of 2011. The single is titled Over and will be released on June 29th. What's even more exciting is that Ai ING ~Aishiteru~ will be encluded as one of the B-sides. If that wasn't exciting enough, the other B-sides will be Hey! Say! BEST's new song Screw and Hey! Say! 7's new song You Got More. Which marks the first time both Hey! Say! BEST and Hey! Say! 7 have their own B-side songs. We all know that Hey! Say! 7 had their own song, Kagayaki Days, featured on Hitomi no Screen, which was a little unfair if you ask me, because BEST didn't get one.
And can I just say how nice it is to finally know what all the new songs from Hey! Say! JUMP are being used for. I'm a little sad that they aren't for a new album, since it's been nearly a year since their first album was released. But hopefully we'll get a new Hey! Say! JUMP album in late 2011 or early 2012.
Hey! Say! JUMP (Actually 5/10 of JUMP) preformed this song on last weeks's episode of Yan Yan Jump so fans get to hear a nice preview of it. Instead of all those choppy concert rips. XD
When I heard that HSJ was releasing a new single I was a little worried that I wouldn't like the song. Their last single, Arigatou ~Sekai no Doko ni Itemo~ was one of my least favorite JUMP singles, and I was a little under whelmed by Ai ING ~Aishiteru~. But after hearing Over I was pleasantly surprised. I absolutely love the song. The music has this sort of European dance music vibe to it. And reminds me of a far less intense version of Shinku. I'm a little sad that during the chorus the music doesn't pick up at all. However, you can't even notice that aspect because during the chorus the singing picks up signifigantly and is very powerful. I also really love the bridge of the song. That's where a lot of nice high notes take place. What's also surprising about this song is Hikaru raps in it and it actually doesn't ruin the entire song. Usually when Hiakru raps it's either insanely soft with singing over it so you can barely notice it like in Ultra Music Power. Or the lyrics are so bad that it throws the whole song off like in Score. Every once in a while Hikaru's raps actaully enhance the song like in Ai Scream. I think Hikaru's rapping actually compliments the song nicely. But that's probably because he's rapping very softly and not overdoing it. I also really love how the song is supposed to be sung like a phone call. At least that's what I got from the lyrics and the random phone dance move they do in the begining. I also love the random speaking part in the begining. And of course I loved Ryosuke's with you towards the end of the song. Just because I'm a sucker for Japanese accents.
The only real fault of this single is the lyrics. At first I thought the song was supposed to be about ending a relationship that's not going well. But then the chorus basically says no matter what I'll stand by you and support you. I don't know, that contradiction makes me confused about the overall meaning of the song.
The performance itself was actually pretty good. The dance was a little simple and lame. But it's not like HSJ is really known for having the best dances ever. I don't think I've ever actually liked any of their dances. I think Deep Night was like the only one. Also, I wish the rest of JUMP was there just so I know who's really getting the solo lines. But most likely these are the people getting them, since they usually are anyway. Maybe Takaki and Daiki will be thrown a line or two but that's about it. Which is really sad. But hey, Yuto's getting lines again so I can't really complain.
If you like what you hear you can but this single from CDJapan by cliking the links below. If you want the Limited Edition I suggest you hurry. When I last checked they were down to 12 copies.

Hey! Say! JUMP – Over [w/ DVD, Limited Edition]

Hey! Say! JUMP – Over [Regular Edition]