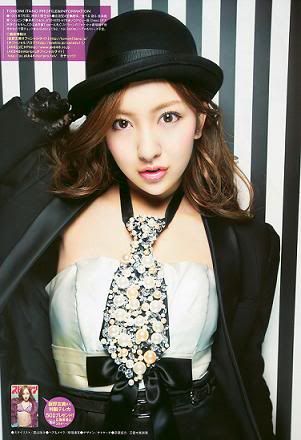 After the phenomenal success of Dear J, it was announced at a live event for Dear J that AKB48 member Itano Tomomi will release yet another solo single. Her 2nd solo single will be released on April 27th, but nothing else about the single have been revealed yet.

I'm not really sure how I feel about this. No one can deny regular Senbatsu Member Tomochin's popularity. However, Tomomi is hardly the best singer in AKB48. Don't get me wrong, I really did enjoy Dear J. More than enjoyed it, I absolutely love the song! And I should probably be way more excited about her releasing a 2nd single, but I just can't be 100% excited because if the song was sung by a different AKB48 singer I would probably like it even more than I do now. I don't know it's just sad that she's only getting to release solo singles because of how popular she is, while better singer who are less popular don't get the same opportunity. I realize that's how the idol business works. But it still kinda hate it. However, if it actually liked Tomomi more, or it was a member I liked more, I'd probably be super excited. I guess I'm no better than anyone else. XD
No doubt, as soon as the previews for the song are released I'll be all over that.