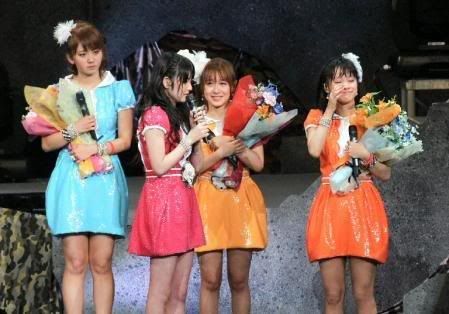 Morning Musume members Kamei Eri, JunJun, and LinLin officially graduated from Morning Musume yesterday. And right now I'm in the surreal state. Where I feel completely sad, but am also in a state of disbelief. It is incredibly hard to lose my favorite Morning Musume member yet again.(LinLin) It also hurts to lose my 3rd favorite Morning Musume member. (Kamei Eri) I actually also feel really empty. I am completely not ready to let these girls go. What am I going to do without JunJun professing her love of bananas? Or Eri naively saying she leaves everything up to her Mom? Or LinLin being absolutely hilarious and just overall bacchiri?



Even though this is what Morning Musume does and always will do, it doesn't make graduations less hard. Right now I am literally fighting back the tears just writing this post.
Kamei Eri's solo song was Haru Beautiful Everyday, which wasn't what I was expecting. I thought she was going to sing Namida ga Tomaranai Houkago. But she always did sound great in Haru Beautiful Everyday, so I'm happy with her choice.
LinLin's solo was Watarasebashi. I think it might be the first ever non Morning Musume graduation song. Of course I am completely thrilled by her choice. Since she killed it in Chinese on Bijou Hodan.
JunJun's solo song was Furusato. I'm actually not sure why she picked this song.
Since the graduation concert was broadcast on TV, some of the performances were posted on youtube. Not the entire concert, but I'm glad that people uploaded what they did.


Hand Made City:

This has always been one of my favorite B-sides, and I always love watching it during concerts. It's sad to think that from now on Reina will most likely be singing Eri's lines. I also don't really mind that LinLin kinda messed up in singing her solo line.
Onna to Otoko no Lullaby Game:
Seishun Collection:
Opening + Souda We're Alive:

Enjoy the feirce opening dance!
Onna ga Medatte naze Ikenai:

VTR + Appare Kaiten Zushi:
Tsuyoki de Ikouze!

Nakidasu Kamo Shirenai yo:

Soon enough the 9th generation will swoop in and help ease the pain. But the 9th gen better understand that they have extremely large shoes to fill.