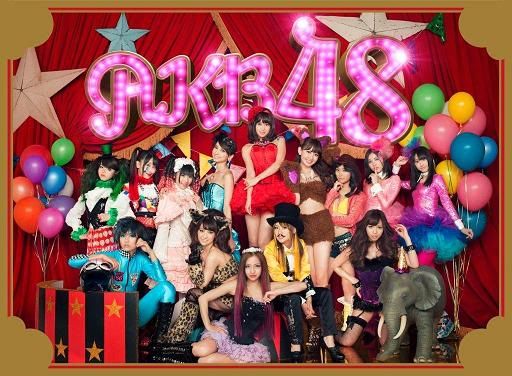 I posed a few weeks about AKB48's upcoming 1st album. Well, now we have more details on the album. We have the covers, track list, and the album name. The album is entitled Koko ni Ita Koto. Since I don't make entire post about covers I don't have all the covers posted here. But above is my favorite cover of the album. Watanabe Mayu in a lolita dress is just pure win.

And you can check out the track list below.
1. Shoujotachi yo
2. Overtake (Team A)
3. Boku ni Dekiru koto (Team K)
4. Renai Circus (Team B)
5. Kaze no Yukue (Kuramochi, Sashihara, Takahashi, Oshima, Minegishi, Kashiwagi)
6. Wagamama Collection (Oota, Maeda Ami, Komori, Sato S, Watanabe, Matsui J)
7. Ningyo no Vacances (Takajo, Nito, Yokoyama, Kasai, Kitahara, Sato A, Masuda)
8. Kimi to Boku no Kankei (Maeda Atsuko, Itano)
9. IIKAGEN no SUSUME (Katayama, Kojima, Shinoda, Akimoto, Miyazawa, Matsui R)
10. High scool days (Team KKS)
11. Team B Oshi (Team B)
12. Chance no Junban
13. Beginner
14. Ponytail to Shushu
15. Heavy Rotation
16. Koko ni ita koto (AKB48+SKE48+SDN48+NMB48)

I've been wondering how they were going to do the album since they have 48 members. And I was completely expecting their solution. Most of the girls aren't featured prominently on the album. Only about half of the girls are featured in songs that aren't team songs. Which is a little unfair. But that's the breaks in an idol group were popularity determines when you sing.
However, they could have fixed this a bit if the 2 Matsuis from SKE weren't included and if the Kenkyuusei didn't have their own song. Because honestly, I think both are a bit unnecessary.
Song wise I'm looking forward to hearing Renai Cirus the most, because the covers have a circus theme and this is the only song that has anything to do with a circus. XD I also really want to hear Koko ni Ita Kot because all the 48 groups in one song, makes me think of Hello!Project All Stars. And anything similar to that is just amazing.
I'm also looking forward to see how much this album sells. I think there's definitely going to be some record breaking going on.
As always, you can buy the album from CDJapan by clicking the links below.

AKB48 – Koko ni Ita Koto [CD+DVD] [Limited Edition]

AKB48 – Koko ni Ita Koto [CD+DVD] [Regular Edition]