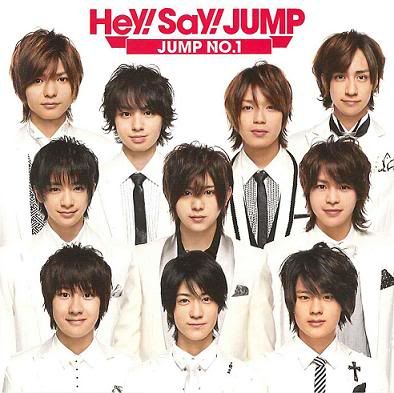 At around 10 this morning I got the best news, of probably my whole week. And I was beyond excited. This also marks my first JE CD. Hooray! XD Since it's like 5 days after the release date I was super paranoid that I was never going to get it. I've never ordered anything from YesAsia before, so I wasn't really sure how long it usually takes to arrive. I also got paranoid that someone on my street was going to steal it. But it's pretty safe to say that no one in my entire town would want this CD. XD
As soon as it came in my mom and sister were telling me, "Come on. Open it, open it!" Mostly because in the past week they've heard way more about Hey! Say! JUMP then they ever wanted to. Since my family likes to mock me about Japanese music/liking Japanese guys on a daily basis I was a little reluctant to show them the CD.
But before I get to their honest reactions to JUMP, here are some pictures I took of the CD.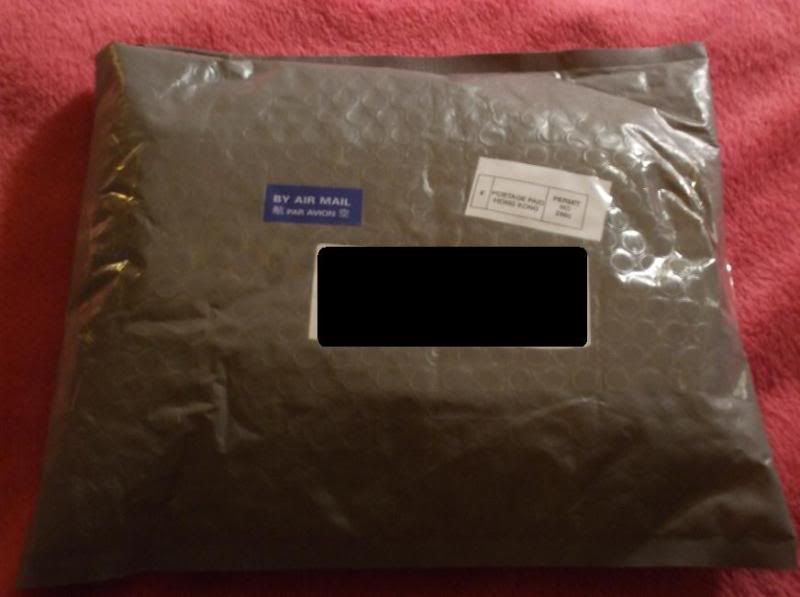 The package. Which had so much tape on it like they never wanted you to open it!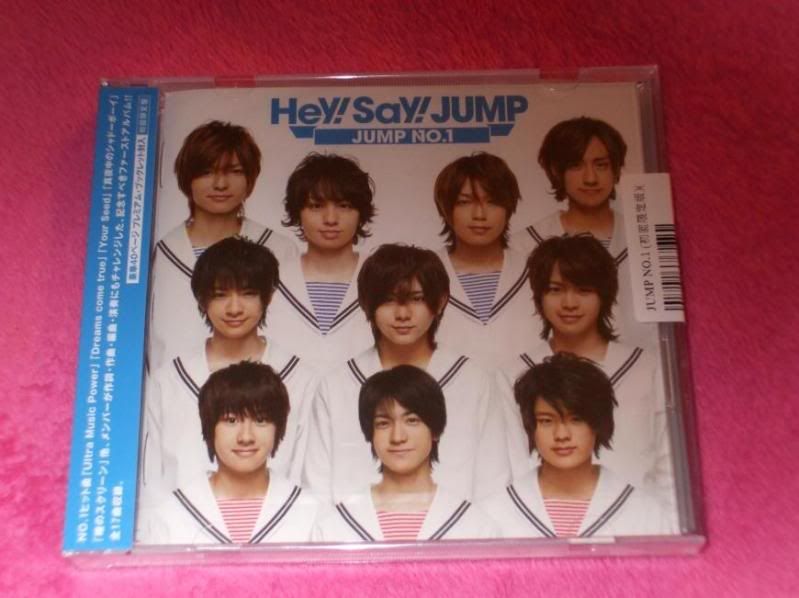 The CD. I got the LE version. :] Even though I hate the sailor suits. :/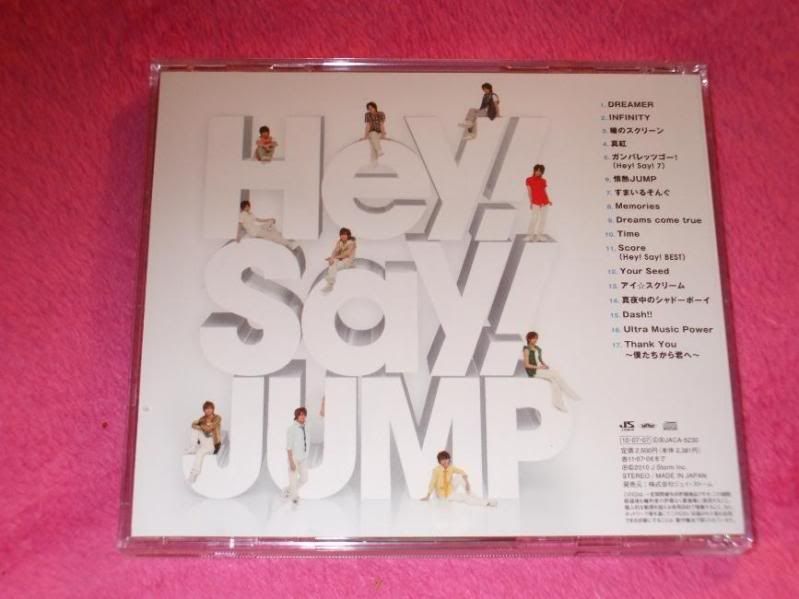 The back of the CD.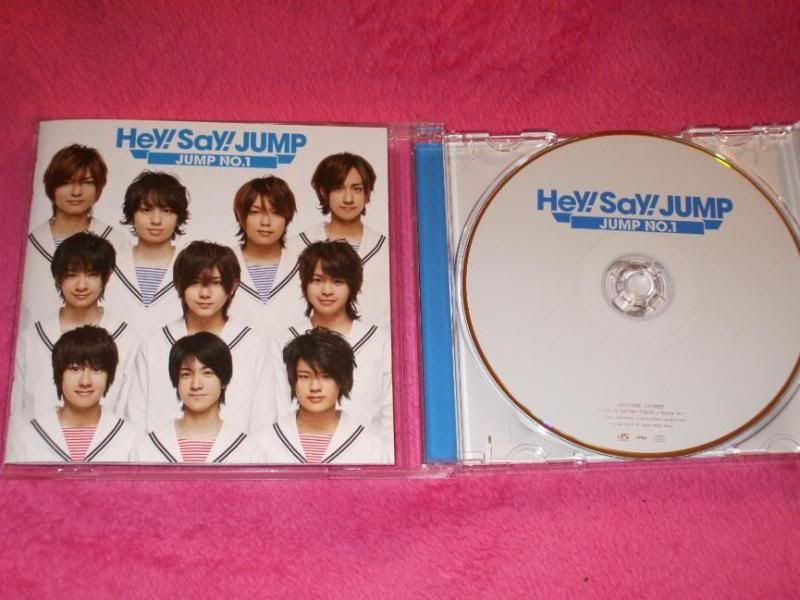 The CD itself.

Back of the booklet. XD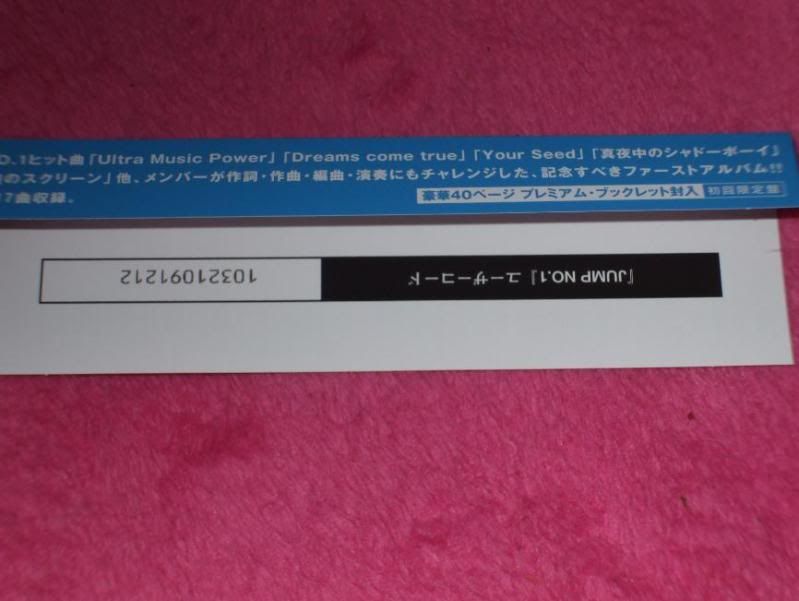 My obi strip that has a random number printed on it.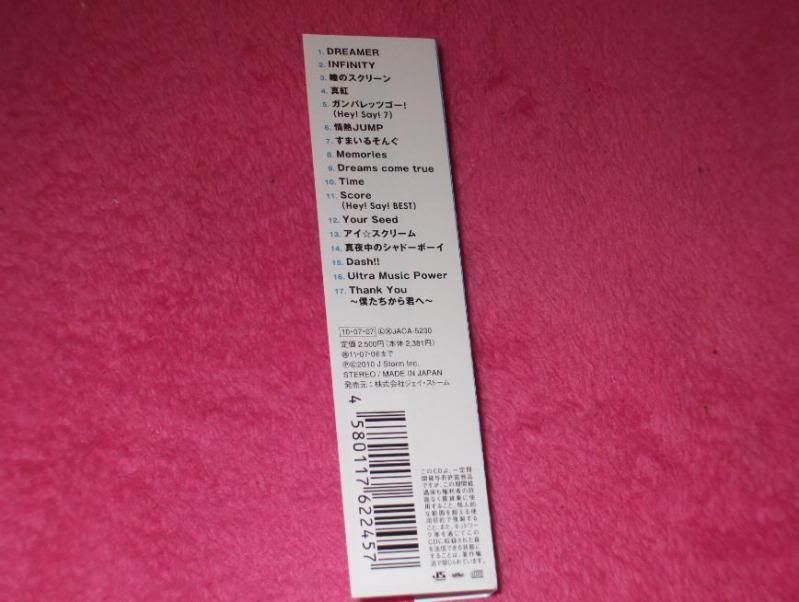 Back of the obi strip. Pointless picture I know. XD

My favorite pictures of the book. Yuto of course.

And also for some reason I love the beach picture. XD
Since I completely loved my family's honest reaction to my Morning Musume CD, I asked them the same with my HSJ CD. But this time I asked in greater detail. Mostly because they're guys and I wanted to see how ugly or attractive they though each member was. Now my mom was a little nicer with her comments, but my sister was brutally honest. Which made her comments 100 times more hilarious and 100 times more insulting. XD I also want to point out that my mom and sister do not find Asians attractive at all. So try not to take their comments to heart.
Anyway here are their reactions to each member. Since their reactions are based on the cover here's the picture of the cover for reference. Of course they looked at the rest of the booklet, but I had them focus on the cover. Also my mom's comments will be in green my sister's in blue. XD
Yabu Kota: I actually forgot to have my mom say anything about him. XD
I like his hair, and he's the most normal looking.
Inoo Kei: looks like a little girl and needs a hair stylist.
Looks Hispanic and looks like a girl.
Takaki Yuya: Doesn't look attractive with hair on his nose.
Looks like he's Yabu's twin.
Yaotome Hikaru: Looks like a Mongoloid. (D: :O!)
Hideous! What's wrong with his nose? Going through the booklet when my mom got to Hikaru she said, "Ooof! We won't ever talk about him!" And then turned the page. My sister also said he looks like an Asian Jasper. (Or Jackson Rathbone for anyone who doesn't watch Twillight. But honestly Jackson is miles hotter than Hikaru. XD)
Chinen Yuri: Needs a nose job.
Looks like a rabbit turtle.
Yamada Ryosuke: Looks like a chicken.
Looks like a pixie.
Arioka Daiki: Has a hook nose.
His nose is fucked up.
Morimoto Ryutaro: Looks like he has botox lips.
Looks like if Danny Noriega got hit in the face with a shovel and ugly stick. Also has a shocked face like he's got a dick up his ass and likes it. (How eloquently put.)
Nakajima Yuto: Looks like Elmer Fudd.
Looks like a dyke woman. If Ellen Degeneres and an Asian had a love child. My sister immediately broke out laughing when I said he was my favorite. Saying I picked the ugliest one. When she saw his solo picture in the booklet she laughed so much she started tearing up. She also said I have something in my eye, I think it's ugly. (I hate my family. TOT)
Okamoto Keito: Looks like he's wearing a wig, but I could do something with his hair. AKA my mom thinks Keito is hot. I told her he's the ripe age of 16 and she said Oh my god! Lol.
Fat and looks like he has down syndrome.
I then asked them if the had to pick one who is the hottest, who it would be. After my mom said how they're all ugly, she said Yabu maybe, but I guess Daiki. For someone who said they were ugly she picked 3. XD
After my sister said I don't want to pick, I don't find Asians attractive, because of the shape of their face and their features. She ended up picking Ryosuke. Of course. I then laughed and said I knew you'd pick someone underage. Since she's liked Nick Jonas since he was 16 and Taylor Lautner since he was 17, and she's 22. I usually jokingly call her a pedophile because of it. XD
There you have it. Honest reactions by non JUMP fans. I hate that they had to rag on Yuto so much. I literally screamed when my sister started laughing at him. And I screamed at my mom what's wrong with Hikaru! Though my family didn't mock me nearly as much as i thought they would.