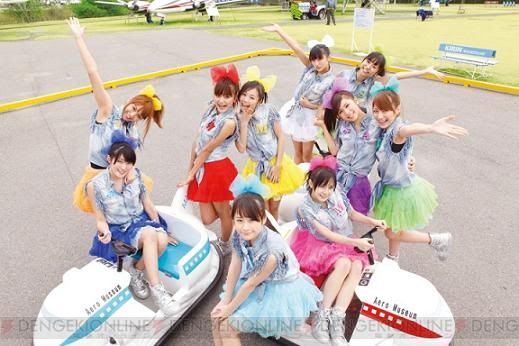 Despite their major debut single, Shoujo Hikou, being pushed back from April 6th to May 4th Passpo is stll going strong. And we finally have a PV preview for their major debut. It's the first time we get to hear the song. We have heard it once before, but it was literally only for 5 seconds.
The song sounds pretty much on par with what Passpo was releasing while they were still indie. It's rockish sounding, while still having that fun idol cuteness. The song is just a little less rock then their previous singles. But I'm sure that's just to make sure their sound isn't too bold it will scare off new fans.
I think what we see of the PV is absolutely adorable. Since it's their major debut they finally are able to have a PV with some what of a storyline. And since they have the money to do so they really played with their
stewardess theme. The PV features them half the time on an airplane and the half half in an airport. Which I think is actually really awesome. But it makes me wonder what they are going to do with their next PV? I wonder if they are going to pull a Momoiro Clover and not really wear their theme in every PV. Only time will tell on that.
The only thing I think this PV is lacking is a better dance. The dance is pretty simple and nothing really to write home about. And even though I do think the parts with the luggage was a cute idea, it actually makes that part of the dance look a little awkward. But that's really my only complaint about the PV. I mean the video is cute and the girls look great. I don't think Mio could get any cuter and I don't think Kaho could get any prettier.
If you like what you see, you can buy the single from CDJapan by clicking the links below. And if you really love Passpo you can pick the single featuring your favorite member. However, I am not sure which girl goes to which type. :/

Passpo – Shoujo Hikou [Limited Edition / Type A]

Passpo – Shoujo Hikou [Limited Edition / Type B]

Passpo – Shoujo Hikou [Limited Edition / Type C]

Passpo – Shoujo Hikou [Limited Edition / Type D]

Passpo – Shoujou Hikou [Limited Edition / Type E]

Passpo – Shoujou Hikou [Limited Edition / Type F]

Passpo – Shoujo Hikou [Limited Edition / Type G]

Passpo – Shoujou Hikou [Limited Edition / Type H]

Passpo – Shoujo Hikou [Limited Edition / Type I]

Passpo – Shoujo Hikou [Limited Edition / Type J]

Passpo – Shoujo Hikou [Regular Edition]