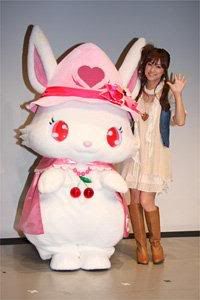 Morning Musume member Kamei Eri will take on her first voice acting role as a character from the new TV Tokyo anime Jewelpet. Eri will play the main character in the anime. Jewelpet will take over the time slot of fellow Momusu member Tanaka Reina's anime Onegai My Melody Kirara. For more info on the anime itself, check out Anime News Network.
This is great news for Eri fans or fans of sanrio, but this new doesn't really even phase me. I'm probably not even going to watch this show. Mostly because I can't speak Japanese.
I also kind of wish Koharu got to voice this anime instead. Since Kirain Revolution ended I really want to see Koharu voice another anime. Eri also sounds a little unnatural with her voice acting, but I'm sure over time she'll get better.
Here's a preview clip of the anime Jewelpet. Even though Jewelpet already aired I can't find the actual episode.